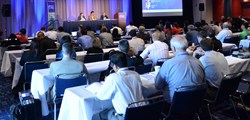 "Great speakers, interesting content, and great networking. PAW conferences are among my favorite analytic events!" - Karl Rexer, PhD, President, Rexer Analytics
Boston, MA (PRWEB) August 07, 2013
Does big data change everything? The debate will be raging fast and furious this year at Predictive Analytics World (PAW) Boston (September 29 – October 3, 2013), and attendees who register before August 9 can save up to $400 on front row seats.
It's guaranteed to be an entertaining discussion. Over the course of five days, top analytics experts from TripAdvisor, Hewlett-Packard, Goldman Sachs, Citigroup and other worldwide companies will rendezvous in Beantown to share their success stories and swap predictions for the future of data.
Samples from the comprehensive agenda include:

Can you really get a predictive payoff going big? The experts on PAW's panel are gearing up to discuss the new demands on predictive analytics as data explodes. The panel will provide real-world tactics to harness the current surge of information and apply it to predictive goals.
Michael Berry, Business Intelligence Director at TripAdvisor, will explain why he worries less about data size than he did in 1980. In this practical, in-depth keynote, Berry will detail various ways that size should be measured and examine how the importance of data size varies by task.
As the new saying goes, your predictions are only as strong as the quality of your data. In this detailed case study, three data executives from Citibank will focus on the data quality framework as it pertains to big data and predictive analytics.
But big data is only a small slice of what's being offered at PAW Boston. In addition to eighteen in-depth case studies on everything from healthcare analytics to Internet security, attendees can choose from five full-day analytics workshops and a variety of priceless networking receptions.
Even better, as part of Data Driven Business Week, PAW Boston 2013 is co-located with eMetrics Summit, Conversion Conference, Context Conference, Text Analytics World (TAW) and DemandCon.
Early Bird Discount:
Register before August 9, 2013 for PAW Boston (September 29 – October 3, 2013) and save up to $400 off on-site prices.
About Predictive Analytics World (PAW)
Predictive Analytics World focuses on concrete examples of deployed predictive analytics. Hear from the horse's mouth how Fortune 500 analytics competitors and other top practitioners deploy predictive modeling, and what kind of business impact it delivers.
Agenda topics and advanced methods for Boston include:
Analytics Talent
Big Data Quality
Customer Insights & Satisfaction
Energy Management
Healthcare Analytics
Holistic Marking Applications
Insider Trading Detection
Insurance – Risk Modeling
Internet Security
Lifetime Value
Media Spend Analytics
Online Ad Optimization
Sales Lead Scoring & Strategy
Uplift Modeling
About Rising Media, Inc.
Rising Media is a global events producer excelling in Internet and technology-related conferences and exhibitions. Rising Media-produced events include Data Driven Business Week, eMetrics Summit, Context ,Conversion Conference, DemandCon, Predictive Analytics World, Text Analytics World, Affiliate Management Days, Building Business Capability, Social Media Economy Days, Web Effectiveness Conference, Search Marketing Expo, SemTech and Social Gaming Summit in the US, Canada, UK, France, Germany, Sweden, Finland and Australia.