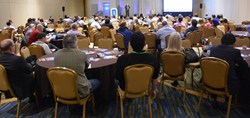 eMetrics is a great event to network, learn, share and get inspired from the success of others. - Michele Kiss, Grand Circle Travel
Boston, MA (PRWEB) August 07, 2013
One of the most important events in the digital analytics industry is back in Beantown and bigger than ever. Even better, the eMetrics Summit Boston (September 29 – October 3, 2013) is offering attendees who register by August 9 a chance to save up to $400 on registration.
This year, eMetrics Summit Boston is taking advantage of its home field advantage. On October 1, Tim Zue, Vice President of Business Development for the Boston Red Sox, will be addressing the crowds in his keynote presentation, Ninety Percent is Mental.
Zue will share his analysis of America's favorite pastime, including his game strategy behind fan surveys, ticket pricing, concessions, parking prices and customer segmentation. As an extra bonus, attendees will have the chance to question Zue for his thoughts on playoff prospects.
Zue's talk is one of seven outstanding keynotes on the eMetrics agenda. Joining him are data executives from Unilever, Hyatt Corporation, Office Depot and more.
Attendees can learn from Tim Goudie how Coca-Cola Gets Social (and manages and measures impact) and hear Steve Petitpas discuss the methods Microsoft uses to help senior executives proceed From Data to Insights to Action in Real Life.
And those are just a couple of the keynotes! As the leading conference covering the impact of data and technology on marketing, the eMetrics Summit makes a point of incorporating multiple learning opportunities into the agenda.
In addition to popular track sessions such as mobile, management and strategy, this big data forum includes roundtable discussions, three full-day workshops and a host of networking meals and after-hours receptions.
To top it all off, the eMetrics Summit Boston 2013 is co-located with Predictive Analytics World (PAW), Conversion Conference, Context Conference, Text Analytics World (TAW) and DemandCon – making the city of champions the only place to be this fall.
EARLY BIRD DISCOUNT:
Register before August 9, 2013 for the eMetrics Summit Boston (September 29 – October 3, 2013) and save up to $400 off on-site prices.
View the full agenda and see all the in-depth sessions available.
About eMetrics Summit
The eMetrics Summit is all about "Big Data for Marketing". From early adopters to those still in discovery mode, this is the only comprehensive event dedicated to digital analytics and marketing optimization. As the leading conference covering the impact of data & technology on marketing, the eMetrics Summit focuses on driving business results through data analysis and technology adoption.
About Rising Media
Rising Media is a global events producer excelling in Internet and technology-related conferences and exhibitions. Rising Media-produced events include Data Driven Business Week, eMetrics Summit, Context, Conversion Conference, DemandCon, Predictive Analytics World, Text Analytics World, Affiliate Management Days, Building Business Capability, Social Media Economy Days, Web Effectiveness Conference, Search Marketing Expo, SemTech and Social Gaming Summit in the US, Canada, UK, France, Germany, Sweden, Finland and Australia.