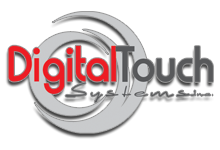 These units are unlike anything seen in a learning space before. They allow participants to incorporate a simulative learning experience into their group work so they can learn how to work together by emerging themselves into the project
New York, New York (PRWEB) August 08, 2013
Digital Touch Systems] (DTS) announces a new partnership that brings touch screen technology to FMC Technologies Learning Center Houston. With the installation of six 60 inch touch screen work centers stationed outside classrooms, FMC Technologies hopes to incorporate interactive team building into the learning experience. Business Review commends DTS and FMC Technologies for their combined efforts to bring state of the art technology into on the job training to achieve a more engaging and effective way of promoting participant learning and group collaborations.
DTS built a custom hardware solution that allows for students or professors to easily move the screens from a wall mounted look to an interactive table, this actuating feature is controlled by a remote. "These units are unlike anything seen in a learning space before," says Bryan McCarley, CEO of DTS. "They allow participants to incorporate a simulative learning experience into their group work so they can learn how to work together by emerging themselves into the project. Once the groups finish their projects, they can easily shoot them over the network back into the classroom to be analyzed and discussed by the instructor."
One of the units has Snowflake software and a gaming suite to incorporate entertainment with quality education allowing instructors to engage students with fun activities while still learning. "These touch screens allow learning to come to life and be dynamic, not just static," says John Potterton, FMC Technologies University Operations Manager. "The intention is to utilize the touch screens for hands on interactive learning tools for participants attending our core courses, giving them the opportunity to perhaps look at some simulations connected to what they're learning."
These screens will allow instructors to get creative with their teachings, which will help engage participants in learning about FMC Technologies during their training. For more information on FMC Technologies Learning Center Houston, contact John Potterton at john.potterton(at)fmcti(dot)com
-30-
About Digital Touch Systems
Digital Touch Systems (DTS) is a touch screen technology company based in Austin, Texas. DTS manufactures touch screen hardware and develops interactive multi-touch software. It has created a number of opportunities through the synergy of hardware manufacturing, software development, cloud space, and network. Areas of focus include: Hospitality, Advertising, Education, Corporate, and Defense.
Our software ranges from a restaurant suite, advertising platform, trade show application, annotation software, facial recognition, network backend, and more.
About FMC Technologies
FMC Technologies, Inc .is a leading global provider of technology solutions for the energy industry. Named by FORTUNE® Magazine as the World's Most Admired Oil and Gas Equipment, Service Company in 2012, the Company has approximately 18,400 employees and operates 30 production facilities in 16 countries. FMC Technologies designs, manufactures and services technologically sophisticated systems and products such as subsea production and processing systems, surface wellhead systems, high pressure fluid control equipment, measurement solutions, and marine loading systems for the oil and gas industry.
Business Review
Business Review, is a daily resource of Gulf Coast business news where readers will find latest breaking business news, updated throughout the day, and some of the week's top stories from The Business Review and other popular features. Subscribers can also sign up to receive email products including daily business news updates, latest news of 17 industries, dozens of popular topics from around the nation and the latest networking and marketing alerts.