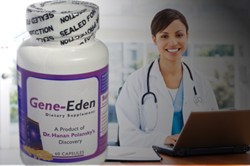 The shingles vaccine only protects about half of those that receive it. We have news for older people concerned about a shingles outbreak.They should use Gene-Eden-VIR against the latent VZV. - Mike Evans, polyDNA
Rochester, NY (PRWEB) August 09, 2013
The herpes zoster virus establishes a lifelong, latent infection. Reactivation of the virus causes a very painful "shingles" outbreak. Studies showed that the shingles vaccine, developed by Merck pharmaceuticals, reduces herpes zoster by up to 51.3% in those who were vaccinated (1). However, the vaccine has many limitations, and a new VZV …vaccine is currently being developed to enhance…immune responses (1)."
"Zostavax (the shingles vaccine) is, essentially, a larger-than-normal dose of Varivax, the chickenpox vaccine, as both shingles (prevented by Zostavax) and chickenpox (prevented by Varivax…) are caused by the same virus, Varicella Zoster Virus (VZV). (June 2005, New England Journal of Medicine) (2)." This vaccine was approved in 2006 by the FDA for use in people over the age of 60.
According to the study's authors, some of the major concerns about the shingles vaccine include "the costs of administration, the overall health care costs to society, and the acceptance and implementation of the vaccine in the elderly (1)". The authors further noted that "additional doses of the herpes zoster vaccine did not give improved immune responses in (the) elderly (1)."
Moreover, "It needs to be mentioned that a live (shingles vaccine) cannot be given to immunosuppressed patients and this patient population is at high risk for developing herpes zoster. (1)"
"The shingles vaccine only protects about half of those that receive it. We have news for older people concerned about a shingles outbreak, and the dull, burning pain associated with it. They should use Gene-Eden-VIR against the latent VZV. It makes sense to kill the virus before it has a chance to reactivate and cause pain that could last for months and maybe longer." – Mike Evans, polyDNA
polyDNA recommends that in light of this information, the public, especially those over the age of 60, should be aware of Gene-Eden-VIR, a natural remedy that boosts the immune system and helps kill the latent herpes zoster virus.
Remember that "The key to your health is to reduce the level of the latent viruses in your body to harmless levels." - Dr. Hanan Polansky
In a post marketing clinical study, Gene-Eden-VIR was shown to be safe and highly effective against the latent herpes zoster virus. Over 70% of Gene-Eden-VIR users reported a reduction in VZV symptoms. (3)
Each capsule of Gene-Eden-VIR contains a patented formula of five all natural ingredients including selenium, camellia sinesis extract, quercetin, cinnamomum extract, and licorice extract. In addition, each bottle is GMP Certified. (4)
To learn more about Gene-Eden-VIR, the only product on the market today that helps the body target the latent herpes zoster virus and that is scientifically backed by published material, visit http://www.gene-eden-kill-virus.com.
References:
(1) http://www.ncbi.nlm.nih.gov/pubmed/23886000
(2) http://www.ncbi.nlm.nih.gov/pubmed/15930418
(3) http://www.cbcd.net/Gene-Eden-VIR-Clinical-Study.php
(4) http://www.gene-eden-kill-virus.com/studies.php
polyDNA is a biotechnology company that develops dietary supplements using the unique scientific method developed by Dr. Hanan Polansky, which is based on Computer Intuition.
In addition to his unique scientific method, Dr. Polansky published the highly acclaimed scientific discovery called Microcompetition with Foreign DNA.
The discovery explains how foreign DNA fragments and specifically DNA of latent viruses cause most major diseases. polyDNA developed Gene-Eden-VIR, an antiviral natural remedy that helps the immune system kill latent viruses.