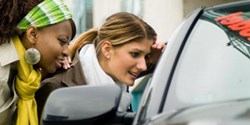 We are serving as the bridge between consumers, dealers, and lenders...
Wilmington, NC (PRWEB) August 07, 2013
Motive Auto Finance, headquartered in Wilmington, North Carolina, is an automotive financial services company that serves clients across the United States. They specialize in matching each client to the optimal dealer or lender based on their application profile, and they pride themselves on having a clientele that spans the entire credit spectrum.
Today, they are proud to publicize the launch of their online loan-matching platform. This takes their service wholly onto the web, enabling clients to submit a credit application via the company's secure portal, then be matched to a dealer or lender willing to fund their loan. From here, users enjoy the convenience of working one-on-one with a finance specialist from their dealer or lender to complete the financing process. Approved borrowers are welcomed with an individual appointment at their dealership, where they can select their new or used vehicle without the hassles and stress of locking down funding. Not only does this simplify the car-buying experience, it shortens the length of time the buyer is required to be on the dealer lot, completing his or her transaction. This is no small factor, with time on dealer lots now averaging more than three hours.
"These days, time is at a premium like never before, and consumers expect technology to deliver convenience," said one company spokesperson. "Financing a car is no different. We are serving as the bridge between consumers, dealers, and lenders - matching them in real-time, with no hassles or obligations."
He went to state that the company, though based in North Carolina, enjoys a national presence, and is expanding its already extensive dealer network at a rapid rate.
About the Company: Motive Auto Finance, located in Wilmington (NC), is connects car-buyers with dealers and lenders ready to finance them. They even serve clients with bad credit, as well as those with lower incomes ($1500 per month minimum) and no down payment.