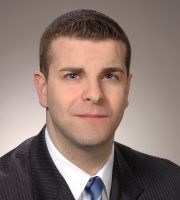 I think the best trial lawyers, the great ones, understand people.
New York, NY (PRWEB) August 08, 2013
Noted New York brain-injury attorney Shareef Rabaa has been named one of America's 40 top U.S. lawyers under the age of 40, the mass-tort and personal-injury litigation law firm of Weitz & Luxenberg PC today announced.
The "40 Under 40" list is compiled annually by The National Trial Lawyers, a professional organization composed of the country's premier trial lawyers who exemplify superior qualifications as civil plaintiff or criminal-defense trial lawyers. Candidates for "40 Under 40" honors are nominated by association members and then subjected to a rigorous peer-reviewed vetting process.
Said Rabaa, "I'm very proud, thankful and happy to be named to the 40 Under 40."
Rabaa is a leading authority on neurological injuries – traumatic brain injuries, in particular – whose expertise often leads to favorable outcomes for Weitz & Luxenberg clients. (Watch the video here).
"Being selected to the list caused me to look back and reflect on all the hard work, the sacrifices, that were necessary to achieve this status," he said.
Rabaa is by no means the first Weitz & Luxenberg attorney tapped for "40 Under 40" honors. In 1995, The National Trial Lawyers named prominent Weitz & Luxenberg member Robert J. Gordon to the list. Several other accomplished young Weitz & Luxenberg attorneys also have gained a coveted place on this roll in the years since, demonstrating a continuity of excellence within the firm. In 2003, co-founding member Perry Weitz earned a spot on a similar list, the "45 Under 45" maintained by American Lawyer magazine.
Rabaa said that young lawyers who qualify for "40 Under 40" are all striving to be great. "A great lawyer is someone who first and foremost can empathize with his or her clients and their families," he explained. "From empathy comes understanding, and being a trial lawyer is all about understanding people."
He continued: "I think the best trial lawyers, the great ones, understand people, understand their plight. That's essential, because the client is putting in you all of his or her trust. They come to you saying, 'I was wronged and now I need your help.' I'm very proud to represent my clients and be for them both a shield and a sword."
Rabaa added that "there's no greater joy than seeing my clients obtain justice. It is truly a fantastic feeling."
***********************
About Weitz & Luxenberg
Founded in 1986 by attorneys Perry Weitz and Arthur Luxenberg, Weitz & Luxenberg, P.C., today ranks among the nation's leading law firms. Weitz & Luxenberg's numerous litigation areas include: mesothelioma, defective medicine and devices, environmental pollutants, accidents, personal injury, and medical malpractice. Victims of accidents are invited to rely on Weitz & Luxenberg's more than 25 years of handling such cases – begin by contacting the firm's Client Relations department at 1-800-476-6070 or at clientrelations@weitzlux.com and ask for a free legal consultation. For more information, visit Weitz & Luxenberg at http://www.weitzlux.com.