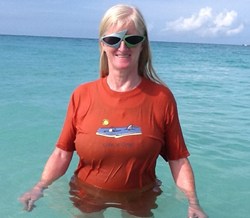 Saving Animals is Anything but Crappy
Manchester, Vermont (PRWEB) August 07, 2013
Vieques Humane Society (VHS) in Puerto Rico faces many challenges every day in their work to improve the health and welfare of the animals on this small Caribbean island. And on August 30th, Vieques resident and animal-lover, Valerie McDyer, a long time Life is Crap cause marketing supporter and partner with the Life is Crap team takes on a challenge of her own to support the shelter's ongoing efforts. She will travel to Turkey and attempt to swim from Europe to Asia, a distance of 4.5km, to raise awareness and well-needed funding for VHS.
Val, no stranger to challenges, is an avid fundraiser who, along with her husband Freddy Gonzales, has climbed Mt. Kilimanjaro, (19,500 feet)—they married at the summit. All in the name of charity, Val has trekked 60km across South Africa, climbed an active stratovolcano (Mt. Meru in Tanzania), and driven across seven countries in Africa (a 3,000 mile Rally). Most recently, she participated in a grueling Rickshaw Rally where she drove a seven horsepower rickshaw from northern to southern India. Val & Freddy took second place, driving 2000 miles in 10.5 days.
In total, Val has raised over $60,000 for charity over the years. She also co-founded the Friends of Amani US headquartered in Boston, MA, a non-profit organization that supports a Children's Home in Tanzania, Africa. Now she is swimming for the stray and abandoned animals of Vieques.
While a long time Boston resident, Val's husband Freddy is originally from Puerto Rico. Several years ago, they began visiting Vieques, fell in love with the island, and recently made Vieques their permanent home. They are currently building their island home, which will undoubtedly become a safe haven for any number of rescue animals.
The Dardanelles, a long narrow strait dividing the Balkans (Europe) along the Gallipoli peninsula from Asia Minor. The Europe to Asia swim takes place in Hellespont, Turkey. Dardanelles, as it is currently known, is a narrow strait in northern Turkey connecting the Aegean Sea to the Sea of Marmara. The strait is one of the world's busiest shipping lanes. It will be closed for a time to allow the swimmers to complete the course. The Hellespont is arguably the most iconic swim race in the world.
Val is currently training in Vieques, where she is swimming in the open sea. She swims 2.5km three times a week and is working on swimming 5km before the race.
Val is appealing to fans in Boston, Vieques residents, island visitors, and her friends across the world to support her swim by donating to the Vieques Humane Society. Her goal is not only to raise funds, but to raise awareness worldwide about the important ongoing work and needs of the shelter. VHS operates solely on donations and depends on generous people like Val and you. Life is Crap is proud to sponsor yet another of Val's amazing charity adventurers.
How To Sponsor Val's Swim & Help VHS:
Please make your donation between now and August 30 via the VHS website, http://viequeshumanesociety.org. Select DONATE from the menu bar. Then select the first option "Support Val's Swim." If you donate via PayPal, be sure to indicate "Val's Swim" in the comments field, or send a check to Vieques Humane Society, PO Box 1399, Vieques, PR 00765. Write "Val's Swim" in the check's memo line. Your donation provides food, shelter, and veterinary care for VHS shelter animals and supports their placement in forever homes. To learn more about the shelter's mission and challenges, visit their website.