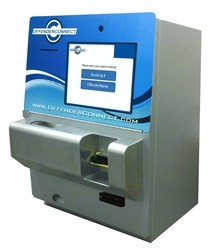 "I think this machine is very effective at detecting counterfeit bills," said Lieutenant Michael Russo
Mobile, Alabama (PRWEB) August 07, 2013
Counterfeit bills pose a financial risk to correctional facilities throughout the United States. The Bergen County (NJ) Sheriff's Office has found a way to combat the spread of counterfeit bills with the addition of a Global Tel*Link OffenderConnect® intake kiosk to their booking process.
On two recent occasions, the intake kiosk at the Bergen County jail detected counterfeit bills in funds brought by individuals as they were being booked into the correctional facility. In both instances, the bills were part of a large amount of bills deposited into the inmates' trust fund account. Bergen County officers were alerted to the presence of the counterfeit bills with the rejection of the bills by the OffenderConnect intake kiosk.
Detecting counterfeit bills while being deposited by inmates at booking, rather than when the deposits are taken to the bank prevents the Sheriff's Office from absorbing financial losses from those bills, and allows the county to provide both the bills and the identity of the inmate possessing the bills to the US Secret Service for investigation.
Prior to installing the OffenderConnect intake kiosk, the Bergen County Sheriff's Office absorbed all losses from counterfeit bills that were accepted from inmates being processed. "We have been hit with phony bills in the past," said Lieutenant Michael Russo of the Bergen County Sheriff's Office, "If you don't catch them (the bills), the chain of custody is broken, so even if you suspect who passed the bills, you can't tie it to them." Without an individual to tie the counterfeit bills to, there is no way to recoup the funds added to an inmate's account, resulting in losses for the county. Counterfeit bills are getting harder to detect as counterfeiters adapt to technologies designed to find the bills, making successful detection by technology like the OffenderConnect intake kiosk all the more valuable. "I think this machine is very effective at detecting counterfeit bills," said Lieutenant Michael Russo.
For a demonstration of the GTL intake kiosk, contact your GTL representative, or visit http://www.gtl.net/intake
About Global Tel*Link:
As the leading provider of integrated correctional technology solutions, Global Tel*Link provides service to approximately fifty percent of inmates nationwide including service to thirty State Department of Corrections and fifteen of the twenty-five largest city/county facilities. To learn more about GTL's applications and solutions or to speak to a representative of GTL, please visit our website at http://www.gtl.net or contact us at 800.489.4500.
Media Contact:
Anthony Bambocci, Chief Marketing Officer
Global Tel*Link Corporation
phone: 888.222.3081 ex. 81105
email: anthony(dot)bambocci(at)gtl(dot)net
website: http://www.gtl.net