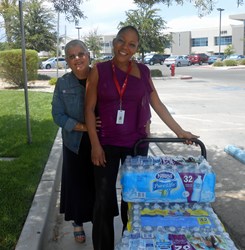 Las Vegas, NV (PRWEB) August 06, 2013
With recent record-breaking summer temperatures leaving residents of Clark County parched, students at Anthem Institute hosted a "Beat the Heat" water drive, donating a total of 94,423 ounces of water including 5,427 bottles and more than 15 1-gallon containers to The Salvation Army to be used at the local homeless shelter and family center.
Students and staff organized a "battle of the classrooms" competition, where the group that collected the most ounces of water was rewarded with a party.
"What better way to raise awareness for members of our community, who are at-risk for critical illness and in need of hydration, than to gather the entire student body with the community in a way that is celebratory and fun," said Lisa Oakes, team lead/instructor at Anthem Institute – Las Vegas. "Thanks to the hard work of our dedicated staff, volunteers, committee, sponsors and Clark County residents, we once again were able to live up to our slogan as 'The College That Cares.'"
Recognized by Las Vegas Councilwoman Lois Tarkanian as a "Best New Business Partner" in 2011, Anthem Institute–Las Vegas continues to serve as a community partner. Staff and students regularly participate and volunteer with various non-profit organizations throughout the community.
"It was truly amazing to watch the faculty and students at this campus come together to make this water drive a huge success," said Leslee Rogers, The Salvation Army. "We are so very appreciative of Anthem Institute's generous donation and look forward to them topping these numbers in the years to come."
Founded in 2002, Anthem Institute–Las Vegas is accredited by the Accrediting Council of Independent Colleges & Schools and the American Society of Health-System Pharmacists. Offering career-focused training programs in the healthcare field, including Medical Assistant, Pharmacy Technician, Surgical Technologist, Medical Billing & Coding, Dental Assistant and Massage Therapy diploma programs, Anthem Institute is dedicated to graduating professionals whose skills match the needs of today's healthcare employers, combining coursework with real-world training labs to ensure that students who come prepared to learn will leave prepared to succeed.
Anthem Institute–Las Vegas is centrally located in Clark County off I-15 and West Sahara Ave. at 2320 S. Rancho Drive. For more information about programs and services offered at the campus, please call 888-852-7272. Visit Anthem.edu.
###
About Anthem Institute–Las Vegas:
Founded in 2002, Anthem Institute–Las Vegas provides career-focused training for the healthcare industry. Education programs offered at the campus include the Dental Assistant program, Message Therapy program, Medical Assistant program, Medical Billing & Coding program, Pharmacy Technician program and Surgical Technologist program. Anthem Institute is part of the Anthem Education Group (AEG) family of schools and colleges, which includes Anthem College, Anthem College Online, Anthem Career College, Anthem Institute, Florida Career College (FCC), FCC-Anthem College, Morrison University and The Bryman School of Arizona. For more information about Anthem Institute, please contact the campus at 888-852-7272. Visit Anthem.edu.
about the Salvation Army:
The Salvation Army, an international movement, is an evangelical part of the universal Christian Church. Its message is based on the Bible. Its ministry is motivated by the love of God. Its mission is to preach the gospel of Jesus Christ and to meet human needs in His name without discrimination. In Southern Nevada, The Salvation Army provides for homeless and unemployed, families in need through our Food Pantry and Family Services Office, people with addictions through our Adult Rehabilitation Program, Adult Day Care for those with mental and physical disabilities and much more. To make donations or volunteer, please visit salvationarmysouthernnevada.org or call 702-870-4430.