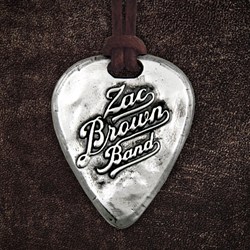 I want everyone who wears this necklace to know that they are helping to make a difference in the lives of these kids that will last them a lifetime. - Zac Brown
Los Angeles, CA (PRWEB) August 12, 2013
Pennyroyal Studio and Grammy-Award winning Zac Brown Band announce the release of a handcrafted Zac Brown Band Necklace with proceeds benefiting Zac's own Camp Southern Ground. Pennyroyal's many charitable collaborations have raised over $230,000 for various charities since 2009.
The limited release Zac Brown Band Necklace will be available to order from August 8th through September 9th with 30% of the proceeds benefiting Zac's passion project, Camp Southern Ground. The handcrafted guitar pick- shaped pendant is available in sterling silver or bronze and features the Zac Brown Band logo on the front and the Camp Southern Ground logo and Zac's signature on the back. The pendants will be available on both adjustable brown leather cord and sterling silver chain (prices vary). The Zac Brown Band Guitar Pick Pendant starts at $55 and will be available for purchase exclusively from http://www.pennyroyalstudio.com/zac-brown-band-necklace/.
Camp Southern Ground, the passion project of Zac Brown, will be a 500-acre Georgia camp catering to children of all abilities and socio-economic backgrounds. It is the latest of many organizations to benefit from Pennyroyal Studio's handcrafted charitable designs. Brown says, "There is nothing more worthwhile than helping kids. I want everyone who wears this necklace to know that they are helping to make a difference in the lives of these kids that will last them a lifetime."
Pennyroyal's Owner/Designer, Tim Foster shares Zac's passion for giving and had this to say about this latest collaboration, "Zac and I met a few years ago and talked about collaborating on a design to help kids and I am beyond proud to support his vision for Camp Southern Ground. I love working with passionate artists and passionate fan bases to make a difference in the world and you'd be hard pressed to find anyone more passionate than Zac and the Zamily."
About Pennyroyal Studio:
Pennyroyal Studio, the Los Angeles-based brand, was founded in 2006 by former music industry professional, Tim Foster. While creating a memento for his girlfriend, Foster discovered his love of designing jewelry and conceptualized his first collection of pendants. Despite the growth of the Pennyroyal Studio brand over the past 6 years, each collection continues to feature Foster's signature artisanal flare and handcrafted appeal that launched the successful jewelry brand. Pennyroyal Studio's designs are inspired by music, history, nature, and a desire to create designs that have a positive impact on each individual customer and the charities that benefit from them.
About Zac Brown Band:
Three-time GRAMMY winners and multi-platinum artists Zac Brown Band have become one of music's most heralded acts. Their third studio album 'Uncaged' (Atlantic/Southern Ground) debuted at #1 with the band's best first-week sales of 234K copies and followed the band's triple-platinum major label debut 'The Foundation' (Atlantic Records/Home Grown/Big Picture) and platinum #1 follow-up 'You Get What You Give' (Atlantic/Southern Ground). Together these albums have produced a historic series of ten #1 hit singles. Zac Brown Band is represented by ROAR, a Beverly Hills-based talent and brand management company. Additional information can be found at http://www.zacbrownband.com/.
About Camp Southern Ground:
Camp Southern Ground is the passion project of GRAMMY-Award winning artist Zac Brown. Inspired by his own experience as a camp counselor, Zac's vision is to create a state-of-the-art facility that will serve children, ages 7-17, with both typical and special needs. The camp will be a place for children of diverse abilities, socio-economic backgrounds, races and religions to come together to learn life skills and encourage personal growth in a positive, healthy and organic environment. Camp programs will build confidence through activities designed to allow children to overcome obstacles and grow in their capabilities, while incorporating advanced programs of superior nutrition and physical exercise.