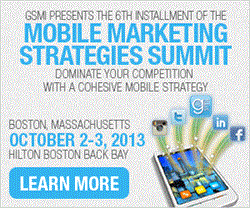 MMSS will help its participants stay informed of important developments in both the media and technology that make mobile a great choice for performance marketers. Particularly exciting are the workshops: the hands on experience is very meaningful
Boston, MA (PRWEB) August 08, 2013
JT Benton, Vice President of the Mobile Marketing Division at DoublePositive Marketing Group, is thrilled to offer his guidance to workshop attendees at the event:
While perceived by many to be a brand awareness channel, it's very clear today that mobile is material in all areas of marketing. The Mobile Marketing Strategies Summit will help its participants stay informed of important developments in both the media and technology that make mobile a great choice for performance marketers. Particularly exciting are the workshops: the hands on experience should be very meaningful. We're excited.
JT and his colleague, Brett Kaufman, Vice President of Mobile Marketing at DoublePositive, are co-hosting a workshop entitled Mobile Marketing Fundamentals – 3 T's of Success: Tips, Trends, & Tactics. As thought leaders in the digital marketing space, Brett and JT will evaluate mobile tactics and methods for increasing marketing efforts and results.
Also joining the summit this October is Archer's Vice President of Mobile Strategy, Bruce Hershey. Bruce has over 15 years of experience developing marketing plans for huge brands like Clorox, Lane Bryant, Wendy's, Samsung, and AB InBev. Bruce's workshop, titled Mobile Strategy: Key Ingredients to Creating an Effective Mobile Strategy, will be a hands-on presentation that will focus on how to understand, create, and maintain the right mobile strategy.
Lastly, the newest addition to the workshop lineup is Craig Besnoy, Mobile Strategist at the Mobile Audit. Craig is experienced in creating and actualizing innovative solutions for his clients, which range from entrepreneurial endeavors to Fortune 500 organizations. His workshop, A Mobile Audit: Analyzing, Establishing, and Implementing Mobility into Your Business, will take attendees through a mobile audit of their individual organizations in order to help define and understand the best strategy for their company.
Make sure to secure your seat to a full day of interactive and educational sessions at the Mobile Marketing Strategies Summit! An early bird registration discount, offering a special $200 savings for early registrations, expires Friday, August 30th, 2013. http://www.mobilemarketingstrategiessummit.com/ .
About GSMI:
GSMI is a leader in the industry of executive education, global conferences, summits, and training sessions that combine rich learning environments with the opportunity to network with today's most relevant thought leaders, speakers and practitioners. GSMI's annual events have reached 85% of the Fortune 500 companies, in over 30 countries, and cover topics that today's leaders find most challenging and inspiring.