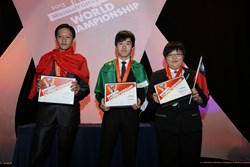 Washington, DC (PRWEB) August 06, 2013
Certiport (http://www.certiport.com), a Pearson VUE business, the leading test delivery solution provider for the global workforce and academic markets, today announced the 2013 Microsoft Office Specialist World Champions, culminating the most popular technology skills competition on Microsoft Office since its inception in 2002. Ka Fai Wong of Macao was named the World Champion in Microsoft Word 2010.
The 2013 Microsoft Office Specialist World Championship attracted more than 344,000 unique candidates from 90 countries who competed to demonstrate their mastery of Microsoft Office products. 100 student finalists participated in the final round of competition.
The top 10 Microsoft Word 2010 finalists are:

Ka Fai Wong, Macao, gold medal
Man-Ying Chen, Taiwan, silver medal
Tien Dung Phan, Vietnam, bronze medal
Nam Nguyen, Canada
Hirohisa Kato, Japan
Adriana Garcia, Ecuador
Haram Choi, Korea
Yew Han Elliot Tan, Singapore
Stephanie Lim Yee Mei, Brunei
Alexandra Herrera, Peru
Certiport recognized gold medalist Ka Fai Wong at the Microsoft Office Specialist World Championship Student Awards Ceremony in Washington, D.C. and presented him with a $5,000 scholarship. Man-Ying Chen received a 2,500 scholarship and Tien Dung Phan received a $1,000 scholarship.
"More than 650,000 exams were uploaded as part of this competition, so these student winners are truly the best of the best at effectively using Microsoft Office tools," said Alison Cunard, general manager for Microsoft Learning Experiences Group. "Students worldwide are realizing the benefits of mastering these key productivity skills as they prepare to enter the workforce. Learning industry-leading Microsoft programs helps them to be more productive on the job from day one and that is what employers are looking for today."
In the concluding round, competitors participated in unique project-based tests to demonstrate their ability to create documents for the information presented in Word.
"In its 12th year, the Microsoft Office Specialist World Championship continues to grow in popularity as more students around the world realize the value of earning an industry-recognized technology certification," said Jim Holm, executive vice president, Certiport. "This year we had a 24 percent increase in the number of participants, and more than 4 million individuals have now taken a Microsoft Specialist exam to validate their skills. Holding the World Champion title will stand out on their resumes as they continue their academic and professional careers."
Next year, Certiport will host the 2014 Microsoft Office Specialist World Championship in Anaheim, CA, U.S. Download high-resolution photos of this year's winners, along with images of the student awards ceremony at: http://www.flickr.com/photos/certiport/.
About Certiport
Certiport, a Pearson VUE company, is the leading provider of certification exam development, delivery and program management services delivered through an expansive network of over 12,000 Certiport Authorized Testing Centers worldwide. Certiport manages a sophisticated portfolio of leading certification programs including: the official Microsoft Office Specialist certification program, the Microsoft Technology Associate certification program, the Microsoft Certified Educators program, the Adobe® Certified Associate certification program, the HP Accredited Technical Associate, the CompTIA Strata™ IT Fundamentals, the Autodesk Certified User certification program, the Intuit QuickBooks Certified User certification program and the Internet and Computing Core Certification (IC³®). Certiport reliably delivers over two million tests each year throughout the secondary, post-secondary, workforce and corporate technology markets in more than 158 countries and 27 languages worldwide. For more information, please visit http://www.certiport.com or follow Certiport on Twitter at http://www.twitter.com/certiport.
"Certiport," "IC³" and "MeasureUp" are registered trademarks of Certiport, Inc. in the United States and other countries. The names of actual companies and products mentioned herein may be the trademarks of their respective owners.