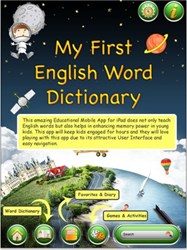 (PRWEB) August 07, 2013
Dev IT Solutions had announced the launch of this amazing & exciting application in a press release on July 15th 2013 through PRWeb.com. Soon after the announcement of the launch, the company received various enquiries about when the Application will actually be available for download on the iTunes App Store. And hence the company is doing this press release to make public aware that this App has been launched and is available for download from the below link.
My First English Word Dictionary is an appealing educational gaming App for kids on iPad platform. This amazing English teaching gaming app is a boon for parents of young kids. Along with teaching English words, it also helps kids to improve the concentration power with integrated gaming sections in the app. This amazing Educational App for iPad does not only teach English words but also helps in enhancing memory power in young kids. It will keep kids engaged for hours and they will love playing with this app due to its attractive user interface and easy navigation.
Below listed are the key features and the gaming sections included in this App.
1. Words A to Z – This section includes over 1200 words starting from alphabets A to Z with related images to explain the meaning of the word.
2. Favorites & Diary – This section allows kids to save their favorite words in a separate section to view later and it also has a diary section where kids can update notes and instances they come across while learning.
3. Games & Activities – This section is the most enjoyable part of this Educational App. Below mentioned are the games and activities provided in the app for kids to enjoy along with learning.
A. Spell Match – In this section, the app shows an image and below that there are some alphabets shown in random order and kids can arrange them in the correct order to spell the word correctly.
B. Cross & Match – This section is to check the understanding of the kids. Here they are shown 3 words against 3 images in random format and they can cross match it with the correct images.
C. Listen To Learn – The App plays the sound of a word and kids can enter the spelling from what they understand by hearing the word. After entering the word, they can tap ok and the app tells them whether or not they have entered the correct word.
D. Memory – This section helps to enhance memory power of the kids. The app shows inverted images and kids can try to remember the location of a particular image and the location of the word for that image and click them one after another and the images are removed from the screen. This can continue until all words and images are matched perfectly.
E. Find Words – Here the App gives alphabets jumbled up and the words to be found are mentioned at the bottom of the screen. Kids need to find those words and drag to mark the entire word.
For more information, visit http://www.devitsolutions.com/devitmobileapplication/
About Dev IT Solutions:
Dev IT Solutions is one of the leading companies providing cutting-edge solutions for Mobile Application Development on various platforms. It has a dedicated team for Development of Mobile Applications i.e. iPhone Application Development, Android Application Development, Blackberry Application Development and Window Mobile Application Development.
Contact:
Dev IT Solutions Pvt. Ltd.
A-302, Shapth Hexa, Opp. High Court, S.G. Highway, Sola - 380060
Email: parth(at)devitsolutions(dot)com
iPhone, iPad are trademarks of Apple Inc., Android is a trademark of Google Inc., Blackberry is a trademark of RIM Inc. and Windows is a trademark of Microsoft Inc.