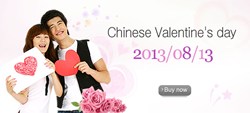 Send Romantic Flowers to China on Chinese Valentine's Day
China (PRWEB) August 08, 2013
In China, the Double Seventh Festival has been known as a romantic love story between Cowhand and Weaver Maid. It's also called "Chinese Valentine's Day". This traditional festival has been very popular in China every year. Now it is once again time for those in love to express their feelings and affections for each others via flowers and gifts. In order to help loved ones send flowers to China, chinaflowers.com is offering Double Seventh Festival flowers. Customers will find a variety of beautiful bouquet styles when they are browsing their website, because all the flowers are specially designed for Chinese Valentine's Day.
Chinaflowers.com has more than 6000 florist chain stores in the Chinese mainland; that means it is a professional flowers and gifts delivery service provider that can send flowers to most of cities in China on same day, including special holidays such as Chinese Valentine's Day.
ChinaFlowers.com is always ready to serve customer's flower and gift delivery needs. And it is accepting advance orders for Chinese Valentine's Day, helping lovers put their hearts together even they are in different countries, too far away from each other. ChinaFlowers.com guarantees same day China Flowers delivery with the best quality, the fastest speed for delivery of true love and feeling.
"The Chinese Valentine's Day Double Seven is obviously the most romantic festival this year. ChinaFlowers.com is ready to help overseas Chinese people join in to celebrate the very special day with flowers and gifts. Every employee is confident that we will satisfy our customers' needs. And It's free delivery for the cities, such as Shanghai flowers and Beijing flowers delivery. Customers who place orders before August 5th can get a 30% discount," says David Liao, CEO of Chinaflowers.com.
About Chinaflowers.com
ChinaFlowers.com has established itself as the most professional worldwide flower and gift delivery provider in China. This China online florist has developed more than 6000 local florists as chain stores in mainland, and become possible to send flowers to China within 3-6 hours on non-holidays, with professional services and favorable prices!