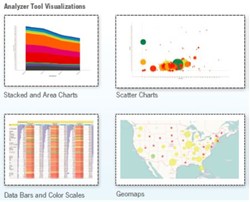 Paramus, NJ (PRWEB) August 08, 2013
Sparkroom, the industry-leading enrollment automation technology owned by CUnet, recently released Sparkroom 5.0, delivering enhancements designed to provide enrollment marketers in higher education with the data and tools needed to optimize their student prospecting efforts to achieve the lowest cost of acquisition.
New features include:

Predictive modeling engine: Automatically rates each inquiry for propensity to convert based on historical data.
Powerful media planning tools: The addition of power tools for budgeting, allocations, reconciliation and vendor management results in Sparkroom providing the richest tool set for education lead buyers.
LeadiD integration: Allows for the auditing of every inbound inquiry with a LeadiD, which provides definitive origination details and automates scrubbing and routing based on the results. Lead history data can also be correlated with performance.
New analyzer tool: A pivot builder featuring ease of authoring with drag-and-drop functionality and powerful customization, including improved layout controls and user-defined formulas.
New user interface: Updated styling, designed for legibility and simplified navigation.
For years, Sparkroom has helped higher education marketing teams identify best performing sources and leads, optimize media spend, achieve the lowest cost of acquisition and scale up marketing functions while reducing maintenance and overhead and reducing brand and compliance risk. The new features of Sparkroom 5.0 build on the existing functionality to provide more depth of inquiry knowledge and the ability to base decisions and processes on this information.
"Building the best media plan requires knowledge about what you're buying. Sparkroom 5.0 provides enrollment marketers with the robust data they've been wanting and a tool set that allows the data to be efficiently and effectively utilized throughout the media planning and enrollment process," said Al Huizenga, director of Sparkroom at CUnet.
Sparkroom is a software as a service (SaaS) application that integrates all aspects of enrollment marketing. Sparkroom spans the enrollment pipeline with three critical functions:
Integrate: A business-ready decision support framework with pre-built integrations into sources including customer relationship management (CRM), student information systems (SIS), business intelligence, call centers and scoring, verification and do-not-call (DNC) services.
Automate: Process automation enables enrollment marketers and admissions teams to standardize and scale workflows including lead capture, scrubbing and routing; media planning, including granular pricing and allocations; campaign management; affiliate management; and form post instruction (FPI) maintenance.
Analyze: Full multidimensional access to integrated marketing and admissions data, enabling marketers to analyze data interactively from multiple perspectives, slicing and dicing across campuses, program areas, geographies and student demographics.
Click here to request a demonstration of Sparkroom.
About CUnet
For almost a decade, CUnet's enrollment marketing experts have helped colleges and universities reach, recruit and enroll the best students for their programs. With the industry's leading technology platform, a comprehensive set of online marketing services and a network of targeted media providers, CUnet partners with higher education institutions to deliver student candidates, holding itself accountable to lowering overall acquisition costs while driving enrollment growth. CUnet's recruitment marketing services are supported by a network of proprietary websites, including their flagship site, CollegeInfo.com, and the CollegeQuest.com student advisor service. CUnet is dedicated to providing the highest standards of transparency and compliance while promoting ethical marketing practices in postsecondary education. Headquartered in Paramus, N.J., CUnet is a subsidiary of Nelnet (NYSE: NNI), a leader in education planning and financing for more than 30 years. For more information, visit http://www.cunet.com.