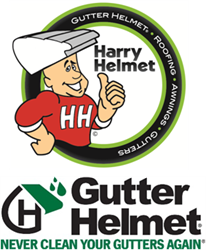 "We've grown so much these past 30 years as a privately owned and operated business, and we're overjoyed to add the Seattle-Tacoma-Washington area to our family"
Tukwila, WA (PRWEB) August 08, 2013
Gutter Helmet® by Harry Helmet™, a provider of gutter protection, roofing, and home improvement services, announced yesterday that they were awarded the exclusive Gutter Helmet dealership rights for the Seattle-Tacoma-Washington metropolitan area. Washington will become the eighth U.S. state whose homeowners will benefit from Harry Helmet's three decades of experience in the exterior home services market.
Operating out of Tukwila just south of downtown Seattle, Gutter Helmet by Harry Helmet will be serving existing Gutter Helmet customers as well as new customers. From this new location in the Pacific Northwest, Harry Helmet's operation will be able to service some 4,000 existing Gutter Helmet customers living in Seattle, Tacoma, Bellevue, Olympia and throughout the western Washington region.
"The Seattle-Tacoma-Washington region is an ideal location for our home improvement products and services given the region's strong economic outlook and four-season weather patterns. We've grown so much these past 30 years as a privately owned and operated business, and we're overjoyed to add the Seattle-Tacoma-Washington area to our family," said Del Thebaud, President and owner of Gutter Helmet by Harry Helmet.
Harry Helmet stands prepared to assist homeowners in western Washington who are experiencing issues with their current gutters being able to handle the unique weather conditions of the Pacific Northwest. The Gutter Helmet gutter protection system is durable enough to withstand the constant rainfall that is prevalent during various parts of the year. Along with its seamless gutter, soffit, and fascia board replacement services, Gutter Helmet by Harry Helmet is committed to helping homeowners prevent potential damage to their landscaping, basements, and house foundations that can be caused by misdirected runoff water.
Harry Helmet's signature product is Gutter Helmet, the most popular and most effective gutter protection system in the nation. Gutter Helmet utilizes a patented "reverse-curve" design which allows roof runoff water to adhere to its surface and flow through a narrow slot into the gutters. This same configuration helps prevent leaves, pine needles, and other solid debris from falling into gutters, and repels them with a nose forward design so that they fall harmlessly to the ground. Gutter Helmet is installed by local manufacturer certified professionals over a homeowner's existing gutters and the product comes with a lifetime performance guarantee from the manufacturer, Southeastern Metal Co., that customers will Never Clean Their Gutters Again™.
In addition to gutter protection, Harry Helmet offers customers a multitude of products and services including gutter installation, which features heavy duty seamless gutters equipped with concealed inside hangers and a 20-year guarantee. Harry Helmet's local crews can replace a home's fascia boards and soffits if they have been weathered, bent, or rotted due to water leakage, or other weather-related problems. Harry Helmet also provides roofing shingle replacement. They use a team of master roofers who install only high-quality roofing products such as Owens Corning, GAF, and IKO. Another product the company offers customers is retractable awnings. These attractive and custom-made awnings provide customers with additional shade from rain or unwanted sun when needed, while saving homeowners on utility bills, and it comes with a user-friendly retractable system to allow sunlight to stream through a home's windows if desired. And lastly, Harry Helmet installs–a heated gutter panel system that is energy efficient and self regulating to warm homeowners' gutters during winter months and prevents the buildup of ice and snow.
Gutter Helmet by Harry Helmet boasts over 100,000 customers since its formation in 1981 and provides a wide range of home improvement services for customers in Maryland, Virginia, West Virginia, Ohio, Delaware, Pennsylvania, New Jersey, and the District of Columbia, in addition to Washington. The company has received several top industry awards including; a "Best Pick" for gutter protection from EBSCO Research; an "Inc. 5000 Fastest Growing Private Company" award from Inc. Magazine; and a "Home Remodeling Market Leader" award from Professional Remodelers Magazine.
For more information or to obtain a free, no-obligation estimate on Gutter Helmet or one of Harry Helmet's additional home improvement services, homeowners in western Washington are invited to contact Harry Helmet at 1-888-5-HELMET, or visit http://www.harryhelmet.com/seattle-gutters.aspx .
###
Gutter Helmet by Harry Helmet - Seattle
Contact: Vanessa Thebaud
vthebaud(at)gutterhelmetsystems(dot)com
Ph: 206-687-7006
12830 Interurban Ave S
Tukwila, WA 98168