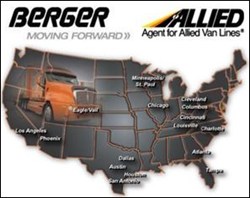 "With Berger as your trusted partner throughout your move overseas, you can rest assured that your relocation will be seamless and successful," a company spokesperson said
(PRWEB) August 07, 2013
Berger Transfer and Storage and Allied Van Lines have a new streamlined way to track all shipments from small, individual moves to large, corporate relocations. The system allows users to track their shipments online in real-time to ensure the order is on track.
The new online shipment tracking requires users to enter a six-digit registration number given at the time of their order. This tracks both local and long-distance residential moves once the shipment is loaded into a Berger Allied Moving van. The goal of the tracking system is to simplify the moving process and guarantee customers receive their items before they step inside their new homes. Residential movers at Berger Allied Transfer and Storage move household items to the exact specifications in the order, including unloading and arranging heavy furniture. The online system also tracks complex corporate office moves that require multiple forms of transportation and unloading specifications. Users can track corporate orders by entering the company's contract number and a five or seven digit agency code number.
Berger provides basic moves for local or interstate relocations as well as international moves. Before loading any items, Berger Allied Transfer and Storage reviews all items unable to cross interstate or international lines and goes through a step-by-step process to ensure orders arrive on time. "With Berger as your trusted partner throughout your move overseas, you can rest assured that your relocation will be seamless and successful," a company spokesperson said.
About Berger Allied Moving
With more than 100 years of experience moving household goods and office equipment, Berger Allied Moving is one of the most reputable moving services in the United States. It operates 15 full-service locations throughout the country. The company is an accredited member of the Better Business Bureau and operates under one of the largest moving networks in the world. For additional information please visit, http://www.bergerallied.com/.