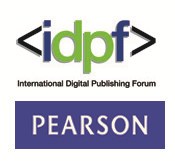 New York, NY (PRWEB) August 08, 2013
Pearson announced today that it is co-hosting a workshop on digital publishing in education, EDUPUB, with the International Digital Publishing Forum (IDPF), on October 29-30, 2013 in Boston. Co-chairs of the workshop are Paul Belfanti (Director, Content Architecture, Pearson North America) and Markus Gylling (CTO, IDPF and DAISY Consortium.).
The goal of the workshop is to bring together major players in the global K-20 education market—including publishers, educators, platform and solution providers, standardization organizations, content distributors, and accessibility organizations—to advance implementation of EPUB3, the HTML5 format developed by the IDPF, as the standard delivery format for e-textbooks. Participants will also emphasize the importance of broader adoption of other Open Web standards, such as CSS, QTI, and LTI, to enable the interoperability of education content across key platforms and systems.
As part of its business transformation strategy to standards-based, digital-first content creation, Pearson is developing EPUB3 output profiles, specifications that generate EPUB3 files tailored to criteria such as target audience, product type, target devices/platforms, learning standards, etc. Pearson will release one of these profiles as an open source output standard for basic educational content to provide a platform that all publishers, vendors, and content distributors can contribute to and use.
"By strongly endorsing the adoption of industry standards, publishers can reduce the overhead associated with delivering the same content in multiple formats," said Belfanti. "The implementation of a standard industry format will also help provide increasingly robust, accessible, and measurably effective experiences for all learners."
"Making digital learning materials cost-effective to produce and distribute, and accessible by all, is a critical part of advancing education publishing," said Gylling. "So we are excited that the EDUPUB workshop will afford a key opportunity to collaborate across the entire industry to accelerate the adoption of EPUB and the overall Open Web Platform as the universal global standard."
Prospective participants should submit a position paper or statement of interest by August 23, 2013. A preliminary list of possible workshop topics is available at idpf.org/edupub-2013-topics. For information on how to participate, visit the workshop site at idpf.org/edupub-2013.
EDUPUB's organization co-sponsors are W3C and IMS Global Learning. Additional corporate sponsors include Aptara and SPi Global.
About Pearson
Pearson (NYSE:PSO) is the world's leading learning company, providing educational materials and services and business information through the Financial Times Group. Pearson serves learners of all ages around the globe, employing 41,000 people in more than 70 countries. For more information, visit http://www.pearson.com.
About IDPF
The International Digital Publishing Forum (IDPF) is the global trade and standards organization dedicated to the development and promotion of electronic publishing and content consumption. The IDPF develops and maintains the EPUB content publication standard that enables the creation and transport of reflowable digital books and other types of content as digital publications that are interoperable between disparate EPUB-compliant reading devices and applications. For more information, visit http://idpf.org/.
Contact:
Rod Granger
Pearson
rod.granger(at)pearson(dot)com