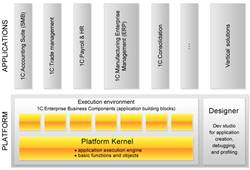 The platform allows you to run the application, as well as modify it or create a new one. There is a single platform (1C:Enterprise 8), but an unlimited number of applications can be created.
San Francisco, CA (PRWEB) August 08, 2013
1C Company releases a new version of 1C:AccountingSuite.
The main new features include:
*100+ user experience and user interface improvements based on customer feedback and made for migrating to the new 1C Taxi interface. The interface is now optimized to work on screens with smaller resolutions, incl. tablets;
*the interface was fully migrated to the new 1C Taxi interface with the "modality usage: do not use" mode;
*integration with Stripe for credit card processing within AccountingSuite. The integration allows to save credit card information on Customers and charge cards from Cash Sales and Cash Receipt documents. The integration is designed in a way that AccountingSuite is outside the scope of PCI compliancy. Currenty the Stripe integration functionality is available only in the cloud version of 1C:AccountingSuite (accountingsuite.com), but we are planning to release an on-premise version of the integration in the future;
*updated the physical check numbering mechanism and check print forms;
*added the period closing feature for closing income and expense accounts to the retained earnings account;
*the item card now includes three custom fields;
*incorporated price levels and customer categories in the price list, now prices can be set based on an item category and a customer price level but without setting a price for an item itself;
*added functionality of unapplied payments in the Cash Receipt document;
*implemented user rights functionality: full rights, view only and no rights for each subsystem, and also the "reports only" right;
*a logo upload mechanism.
1C:Enterprise section enriched
The 1C:Enterprise description is enriched with 80 new articles regarding the following functionality areas:
*Rapid development environment
*Internationalization
*Administration tools
*Usability
*Other
Not familiar with 1C:Enterprise? Time to take a closer look at this state-of-the-art platform.
New versions of 1C:Enterprise platform
New versions of 1C:Enterprise platform are released. You can download training version and Thin client for free. You can also download any version of purchased or free products in your profile.