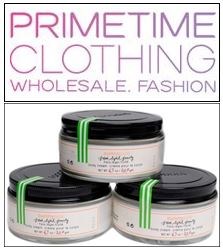 "We want our customers to feel as good as they look, and now we have the health and beauty products that leave them feeling as pampered as if they had just left the spa," said a representative
(PRWEB) August 07, 2013
PrimeTime Clothing, a leading online distributor of wholesale clothing and accessories, has expanded its inventory to include an array of wholesale bath and beauty products available for immediate purchase. The expansion into beauty products allows customers to find affordable prices on high-quality products that can be enjoyed personally or resold in independent outlets and shops. The new assortment includes hand creams, body scrubs, shower gels and bath oils in appealing packaging and convenient unit and package prices.
A representative from the company commented on its new assortment of beauty products. "We want our customers to feel as good as they look, and now we have the health and beauty products that leave them feeling as pampered as if they had just left the spa. We're excited to offer a new type of item to our loyal customers and believe they'll be thrilled with the quality."
Customers can receive 15 percent off their first order by entering the code PRIMETIME at checkout. PrimeTime Clothing offers free shipping on orders over $300 anywhere in the continental U.S. and $9.95 continental U.S. flat rate shipping on orders under $300.
About PrimeTime Clothing - PrimeTime Clothing offers a broad and unique selection of premium wholesale fashion apparel and accessories at affordable prices. The company provides high-quality goods sourced from hundreds of Los Angeles-area manufacturers and importers. With more than 25 years of experience, PrimeTime Clothing has grown to be a leader in the business of discounted wholesale apparel providing the latest fashionable Junior, Missy, Plus-Size, Men's, Active Wear, Intimate, Handbags, Accessories and much more. In 2013, business operations expanded to begin offering wholesale bath and beauty products through the same convenient website. Customers may come in directly to the company's warehouse for a purchase by scheduling an appointment. More information is available at: http://www.primetimeclothing.com/.