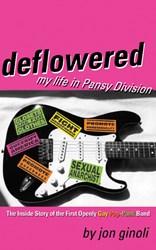 (PRWEB) August 08, 2013
Susie Bright, a veritable legend in sexuality, and pioneer of sex-positive feminism, has partnered with Cleis Press to produce the audiobook of Deflowered: My Life in Pansy Division. Deflowered is a memoir both written and narrated by rock star Jon Ginoli, who founded the first openly gay punk rock band. As Willow Pennel of The Bright List explains, "Pansy Division faced the kinds of violent reactions The Sex Pistols faced when they toured the South. Audiences spit at them from the pit and assaulted them outside. But like the Sex Pistols, Pansy Division spit and fought right back."
Cleis Press and Susie Bright have a history of joining forces to create best-selling audiobooks, as illustrated by Rachel Kramer Bussel's Yes, Sir. Yes, Sir, which is one of Bright's top ten bestsellers. Pennel describes the audiobook as a compendium of "some of the hottest, most compelling stories of female submission."
Together, Bright and Cleis provide groundbreaking, educational, and entertaining titles in every imaginable format.
Jon Ginoli sets off on a journey of self-discovery and musical passion to become the founding member of Pansy Division, the first out and proud queercore punk rock band to hit the semi-big time. Set against the changing decades of music, follow the band from their inception in San Francisco, to their search for a music label and a permanent drummer to their current status as indie rock icons. Follow the highs—touring with Green Day—and the lows—homophobic fans—of striving for acceptance and success in the world of rock. Replete with the requisite tales of sex, drugs, groupies, band fights and label battles, this rollicking memoir is also an impassioned account of staying true to the artistic vision of queer rock'n'roll.