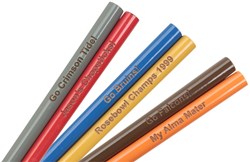 Eugene, Oregon (PRWEB) August 08, 2013
Everything Chopsticks, a leading seller of chopsticks and related items has released a new line of school and team two colored chopsticks. The chopsticks feature one chopstick in each of the two main colors of a school or sports team.
In addition to the chopsticks, they can be engraved with a personalized phrase such as "Go Bears!", a person's name, fun sayings and graphics.
The school and team colored chopsticks are inexpensive and are suitable as personal gifts to fans, favors at parties, proms, weddings and school events.
Everything Chopsticks also has personalize-able paper sleeves which can be decorated with school or team colors and graphics, and make an impressive and fun handout when combined with the new chopsticks.
Currently their line of school and team chopsticks covers about two-thirds of all school and team color combinations. They will be adding to their color options to include about 99 percent of all color combinations by the end of 2013. If a customer does not find the pre made color combination of their liking they can configure their own custom combination.
A sampling of popular university colors currently available in two color chopstick sets include Alabama State, Ball State, Boston University, Brigham Young, Brown, UCLA, Carnegie Mellon, University of Colorado, Columbia, Cornell, DePaul, Duke, Florida State, University of Florida, Harvard, University of Houston, Idaho State, University of Iowa, Johns Hopkins, University of Kansas, and Oregon State.
Everything Chopsticks also has the largest selection of personalize-able chopsticks, chopstick sleeves and boxes. They engrave the chopsticks at their warehouse providing expert quality, low cost and quick turnaround. Personalized chopsticks are used as gifts, and as giveaways at weddings, parties and corporate events.
Everything Chopsticks has been a leading seller of chopsticks in the United States since 2005. They sell over 450 styles of chopsticks from around the world and provide the largest English language information website about chopsticks with over 65 articles on the history, culture, use, and manufacture as well as fun articles on what people do with chopsticks such as building a canoe, pickpocketing and surgery.
About Everything Chopsticks
Everything Chopsticks (http://EverythingChopsticks.com) has been a leading provider of chopsticks since 2005, specializing in quality chopsticks from Asian cultures around the world.