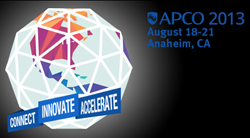 Pragmatic in-building public-safety solutions must inspire - not just require - stakeholders to participate.
Sunnyvale, CA (PRWEB) August 08, 2013
SOLiD, a publicly-traded global communications solutions innovator, announced today that the Company will return to the APCO International 79th Annual Conference & Expo (APCO 2013) as an exhibitor and that its President, Seth Buechley, will represent the Safer Buildings Coalition as moderator of a panel of public-safety industry experts seeking to identify best-practices for leveraging wireless technology to enable communications for both the general public and first responders inside large buildings, campuses, and public venues in the event of an emergency.
SOLiD is recognized as an industry thought leader for innovating its flagship multi-service, "neutral host" Distributed Antenna System (DAS) which converges both public-safety and commercial cellular services on a single, code-compliant system, and for founding the Safer Buildings Coalition whose mission is to establish safe buildings that ensure that people are notified and can communicate when there is an emergency, and that first responder radio systems work when they arrive at the emergency site.
"The terrorist attacks on the World Trade Center and Pentagon serve as a painful reminder that in-building wireless communication is essential for everyone who enters a large building or venue," said Ted Erb, a former Fire Prevention Officer at the City of Bellevue Fire Department who now consults on communications technology and public-safety. Mr. Erb cites Bellevue as an early-adopter of International Fire Code (IFC) ordinance that requires certain buildings to install in-building radio systems to improve fire service communications.
Although nearly everyone agrees that providing public-safety communications inside buildings is critical, the challenge of how to achieve the goal is complicated in-part because there exists no blueprint and there are multiple stakeholder interests. Mr. Buechley and the panelists will explore these challenges and opportunities during the APCO roundtable discussion.
"We are at the formative stage of identifying policy and technology solutions at the highest level through FirstNet for delivering mission-critical emergency communications to save lives," said Robert LeGrande, II, Founder of the The Digital Decision, LLC, a former Chief Technology Officer of the District of Columbia, and APCO panelist. "To overcome often-conflicting interests and myriad challenges that include technical, liability, cost and management, pragmatic solutions must inspire - not simply require - stakeholders to participate."
"A lack of wireless coverage inside a building is a safety risk for not only first responders but the general public as well," said SOLiD's Mr. Buechley. "We are grateful to the APCO conference organizers for the opportunity to engage this group of public-safety subject matter experts to explore strategies for applying wireless technology to achieve mission-critical in-building communications."
SOLiD is showcasing its public-safety DAS solutions including the ALLIANCE converged cellular and public-safety neutral host DAS, and the EXPRESS quad-band 700/800/UHF/VHF public-safety DAS at Booth #635.
For more information, please contact SOLiD.
Panel Information
Title: "Developing Standards and Certifications for Converged Public-Safety and Cellular DAS Networks "
Date: 8/18/2013
Time: 1:15 PM–2:15 PM
Location: Anaheim Convention Center
Panel Participants: Jonathan S. Adelstein, President & CEO, PCIA - The Wireless Infrastructure Association (former Commissioner of the Federal Communications Commission); Seth Buechley, President of SOLiD and Founder of the Safer Buildings Coalition; Robert LeGrande, II, Founder, The Digital Decision, LLC (former Chief Technology Officer, District of Columbia); James Teel, Director of Business Development, Harris Corporation
APCO 2013 Panel Description
Distributed Antenna Systems (DAS) are proven and widely-used platforms for distributing cellular wireless coverage at large buildings, campuses, and public venues. Increasingly, DAS is also being deployed to enable public-safety communications and meet the latest building fire codes. What is missing today is a set of standards and training certifications for those who design, install, manage and maintain these mission-critical unified networks. This session explores the requirements of public-safety and commercial cellular stakeholders and examines how the two industries are addressing the need for standards and certification.
About SOLiD
SOLiD (http://www.solid.com) empowers capacity and coverage for cellular, public safety, and Wi-Fi services at large venues and campuses through innovative Distributed Antenna System (DAS) and carrier-grade Optical Network solutions for Small Cell Backhaul and Passive Optical LAN (POL) deployments. The company is grounded by a shared vision of advancing technology to solve wireless industry problems in new ways and supporting our customers and partners with world-class service. SOLiD counts among its global customers major wireless operators; leading hospitals; Olympic, professional, and college sports venues; metropolitan subways; government and Fortune 500 corporate campuses; and other marquee customer sites. Learn more at the SOLiD website, read our blog and follow us on LinkedIn and Twitter. For further information please email info(at)solid(dot)com or call 888-409-9997.