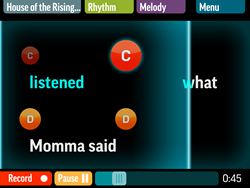 Justin is one of the best guitar teachers in the world so the FourChord users get the best support in learning to play new songs.
Helsinki, Finland (PRWEB) August 13, 2013
Guitar players using FourChords can find the video tutorials within the app, so they can easily learn how to play each chord while practicing the song without leaving the app. Justin Sandercoe's video tutorials are well-known among guitarists worldwide, with more than 130 million YouTube views to date.
"Justin is one of the best guitar coaches in the world, and we are pleased to be working with him," said Paula Lehto, marketing director for Musopia. "Many of us have learned to play by his instructions so we know that he is the man to teach FourChords app users too. Combining Justin's tutorial videos with the app creates a fusion of interpersonal teaching and the latest technology, so guitar players benefit from the best of both worlds."
Aspiring guitarists can now find everything they need to learn a substantial repertoire of contemporary songs in the FourChords app. The iOS app is designed to make playing guitar as easy as possible, replacing notes and tabs with a simple karaoke-style interface in which each chord is represented by its own icon along with the song lyrics. Songs are rearranged in simplified versions to be played with only a few easy chords. An acoustic backing track helps guitarists keep the beat, and the pace can be adjusted as needed.
Musopia´s mission is to make playing an instrument so easy that everybody can do it. The company is currently working on their next high-quality app, which will "change the way that chords can be learned, providing the first step in a guitarist's career," according to Lehto.
The FourChords App is available for free on the App Store: http://taps.io/MTExMTE4