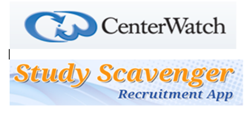 We're very excited about this partnership, as the app serves as a new distribution channel for patients and healthcare providers to learn about and potentially participate in clinical trials
Dix Hills, New York (PRWEB) August 12, 2013
Study Scavenger, the first bilingual smartphone app to allow subjects to search for clinical research studies that meet their health, travel and financial needs, and CenterWatch, a leading provider of clinical research business information and online publisher of active clinical trial listings for patients and the public, are partnering to provide sponsors, contract research organizations (CROs), research centers and patients a mobile solution to their clinical trial needs.
Over the past five years, worldwide mobile app use has grown at a rate of 251%, outpacing the growth of stationary internet use by an astounding factor of 15. Potential research volunteers are a component of this massive growth. The Study Scavenger app and Smartphone mobile devices create a win-win partnership that goes beyond the software-PC alliance. No other mass market device is carried around all day, everyday and is capable of providing location information at all times. With Study Scavenger's technology, the potential volunteer can search for research studies by location or perform an advanced search, which allows patients to enter their age, zip code, health conditions, distance willing to travel and requested stipend to locate clinical studies meeting their personal, health, and financial needs.
For pharmaceutical companies, the partnership between Study Scavenger and CenterWatch will help optimize the millions of dollars spent on patient recruitment advertising while providing motivated patients the ability to find studies that meet their personal needs.
"We are delighted to have CenterWatch as our partner. Their dedication to high-quality service and study posting is exactly what the research industry needs in a mobile environment. We are thrilled to bring the combined product to the research industry," said Kerri Weingard, ANP, founder and CEO.
CenterWatch launched the Clinical Trials Listing Service™ (CTLS) in 1994 with the sole mission to provide patients and healthcare providers a central location for finding clinical trials. Today, this service is considered the largest online database of industry-funded global clinical trials. "The service reaches a highly targeted and interested patient community via a wide range of distribution channels – patient eAlerts, social media, collaborative relationships with health associations and much more," said Joan Chambers, COO of CenterWatch. "We're very excited about this partnership, as the app serves as a new distribution channel for patients and healthcare providers to learn about and potentially participate in clinical trials. The app, combined with our wide range of channels, reaches a broader audience ultimately serving the overall clinical trials enterprise."
About Study Scavenger
Founded in 2012, Study Scavenger is the premier smart phone app for subject recruitment. Study Scavenger currently serves research centers across the country by promoting their current studies. Study Scavenger's strategic partnerships including Verified Clinical Trials and JALR.org allow the app to continue to grow and meet Sponsor, CRO, Research Site and Research Subject needs in a mobile world. For more information, visit http://www.studyscavenger.com or email info(at)studyscavenger(dot)com. Contact Kerri Weingard, ANP, CEO.
About CenterWatch
Founded in 1994, CenterWatch is a trusted source and global destination for clinical trials information for both professionals and patients. CenterWatch provides a wide variety of information services, including grant leads for investigative sites; business development leads for contract service providers; postings of career opportunities; listings of clinical trials actively seeking patients; advertising and promotional opportunities; and proprietary business analysis and data about the global clinical trials industry. Visit http://www.centerwatch.com .