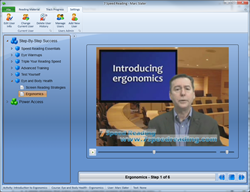 The comprehensive database provided by eReflect includes business, self-help and money-making oriented guides and e-books.
New York, NY (PRWEB) August 15, 2013
7 Speed Reading™, now available for MAC, is offering extensive and practically inexhaustible training opportunities for speed reading students with its comprehensive 600-strong e-book database. Users of the 7 Speed Reading™ system can work on mastering their speed reading skills by choosing to read any one of the 600 e-books 7 Speed Reading offers for free. eReflect has added this feature to the software in order to be able to offer users a unique combination of speed reading and broader education, a company representative said in a recent announcement.
This initiative by the developers of 7 Speed Reading™ seeks to help users read faster while benefiting from the wide selection of e-books in various genres to choose from. Apart from its scientifically developed training lessons and games users can engage with to improve their speed reading skills, the software also provides access to the most extensive free e-book database in any speed reading product.
Books, articles, and other reading materials are produced and disseminated daily, but people usually have only a limited ability to read these materials, as their time is scarce and the content ever-increasing. eReflect has responded to this imbalance and seeks to counteract it by offering both a chance for readers to hone their speed reading skills and to simultaneously read interesting content.
eReflect revealed that both Windows OS and MAC OSX users, after purchasing 7 Speed Reading™, have the ability to make use of 600 free e-books with a total net worth exceeding $3,000. The comprehensive database provided by eReflect includes business, self-help and money-making oriented guides and e-books. Users from all backgrounds and careers can find something relevant and interesting to read while learning to read faster.
The developers of 7 Speed Reading™ wanted to provide users with the most impressive and wide-ranging database of e-books available to ensure all users will have adequate content to practice with. The company's announcement underlined the fact that providing users with high-quality content will act as a motivation to further practice with 7 Speed Reading until the user achieves their speed reading goals.
For more information about the benefits of using 7 Speed Reading, please visit the official website at http://www.7speedreading.com.
About 7 Speed Reading™
7 Speed Reading is the only modern speed reading software that uses the latest technology to produce superior results.
The software provides its users with a new way to master speed reading that guarantees three times the reading speed along with improved memory and comprehension.
The software is poised as the most comprehensive speed reading system anywhere. It contains seven learning strategies, fifteen software activities, video training, advanced tracking capabilities and many more exciting features.