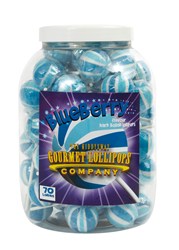 The Kiddsway Gourmet Lollipops Company provides retailers with an affordable product and excellent margins.
(PRWEB UK) 9 August 2013
For the last two and half years, the percentage of shoppers' budget spent on own label products has been trending steadily upwards. According to a recent Brand Strategy Guru report in 2013, retail giants like Tesco boast more than half their sales now coming from own branded products.
There's no doubt the squeeze on consumer's spending during one of the UK's longest periods of sustained recession has contributed to the increasing popularity of own label brands. The ability to save money on the weekly shopping by choosing own branded ranges in favour of more well-known labels has never been more important. In recognition of this, many companies are now focusing increasing efforts on improving the product quality and packaging in order to create ranges capable of competing with the leading brands. The John Lewis Partnership is a prime example of a business building a very successful and credible range of its own private label across foods with its Essential Waitrose brand, homewares and its new Kin clothing range.
A Leicestershire-based confectionery specialist and wholesaler, Hancocks has been in the sweets game since 1962 and is no stranger to creating its own best-selling ranges of sweets including the popular Kingsway brand. A continual pipeline of exciting new innovations continues to cater to the demand for competitively priced sweets, whilst stimulating the retail and confectionery market, regularly breathing new life into the value end of the lollies and chocolate sector.
Hancocks Confectionery has recently announced the launch of its own range of gourmet lollipops launched across its 20 cash and carry depots located conveniently across the UK. The positive feedback received from retailers during the early concept stage suggests the new range will have wide appeal to both children and adults. These delicious lollipops have been specifically created to meet the demand for quality yet affordable sweets that can compete effectively with other brands on the market.
With the UK sugar and gum confectionery market showing year on year growth according to Mintel (2012) like many other sectors, much of this growth is being fuelled by innovations and investment in own branded ranges. Businesses like Hancocks, that continue to increase the breadth of its range with exciting new innovations that capture the perfect blend of good quality and affordability will stand in good stead of winning the hearts and minds of both retailers and consumers in the competitive confectionery sector.
Branded as The Kiddysway Gourmet Lollipops Company, the recommended retail price will be £0.25p enabling the retailer to achieve strong retail margins of up to 45%. The delicious gourmet lollipops come available in flavours such as American Cola, blueberry, bubble-gum, sour cherry and strawberry. Individually wrapped, the lollipops are packaged in a boutique jar of approximately 70 lollies. Hancocks also offers a range of empty retro sweet jars such as the Victorian Sweet Jar, popular with retailers wanting to create a feeling of nostalgia in their stores.
Hancocks Purchasing Director Jonathan Summerley explains why they expect the novelty range of gourmet lollipops to be a success: "We have created The Kiddsway Gourmet Lollipops Company range to ensure that retailers have an affordable product which offers excellent margins compared to branded equivalents. This means that retailers can offer a fantastic price to their customers and compete in the increasingly popular own brand product market."
The Kiddysway Gourmet Lollipops range is available now at all Hancocks 20 depots across the UK. To locate your nearest Hancocks Depot, visit http://www.hancocks.co.uk. The range is coming soon to the Hancocks online website for trade customers!
Hancocks Confectionery was established in 1962, with the owners Ray Hancock and wife Liz starting wholesaling confectionery from their sweet shop based in Shepshed near Loughborough. Since those early days, the business has grown enormously with over 5,000 product lines in stock at their 20 cash and carry depots across the UK and more depots planned for 2014.