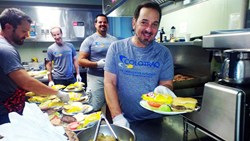 Each member of the Colotraq team takes his or her responsibility to be a good citizen seriously, so it was only natural that those convictions would find expression collectively. - Dany Bouchedid, Colotraq CEO
Parsippany, NJ (PRWEB) August 14, 2013
Colotraq, the foremost global sourcing advisory firm and master agency for data center services, announced today that it had officially designated the month of July to social responsibility. Continuing a long tradition of ongoing community service, Colotraq participated in the following events:

June 27 – Blood drive
July 18 – Verizon 5k Run for Charity
July 24 – Homeless Solutions
Colotraq's dedication to its community began several years ago by sponsoring blood drives, a tradition which has now grown into a quarterly activity.
In 2012, a full day of community service was added, and the tradition began by spending a day at a Habitat for Humanity affiliate building site. This year, the Colotraq team spent the day preparing and serving meals to the homeless through Homeless Solutions.
"The feeding the homeless event probably had the greatest impact on our team since it put us in direct contact with the beneficiaries," said Jenny Swistok, from Colotraq. "We were able to put faces to the anonymous term 'homeless' and empathize with real people in need. Everyone was touched by their appreciation of our efforts and sincere gratitude."
The impetus behind these activities comes from Colotraq's desire to contribute to the overall good of its community, as well as a belief that strong communities are essential to thriving economies.
"We've witnessed a strengthening of our team through the participation in and sharing of these types of activities," said Dany Bouchedid, CEO for Colotraq. "Each member of the Colotraq team takes his or her responsibility to be a good citizen seriously, so it was only natural that those convictions would find expression collectively."
Colotraq plans to continue this tradition annually, participating in various service activities throughout the year and dedicating the entire month of July to corporate social responsibility.
For more information on Colotraq, visit: http://www.colotraq.com/.
About Colotraq
Colotraq is the foremost global sourcing advisory firm and master agency for colocation, managed hosting and infrastructure as a service (IaaS). Since 1999, Colotraq has been helping find data center infrastructure solutions for businesses and institutions through its unrivaled network of over 500 service providers in over 1,200 cities across 160 countries. Colotraq can instantly match customer requirements from a single rack to thousands of square feet of data center space and related network services.