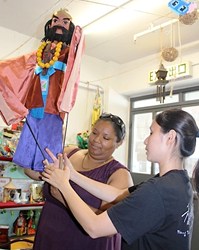 Fund for Teachers grants are good medicine for teachers and the teaching profession as a whole.
Houston, TX (PRWEB) August 15, 2013
According to the National Summer Learning Association, students not engaging in learning experiences during the summer lose approximately two months of grade-level proficiency in math; low-income students also lose the same amount of proficiency in reading. Fund for Teachers makes sure that summer isn't a break from learning for the ones teaching these students. By funding teachers' summer learning experiences, Fund for Teachers helps educators grow and re-enter the classroom more knowledgeable and excited for the first day of school.
"Fund for Teachers grants take teachers from 'decently effective' to 'sold-out for the profession' – allowing us to dive into self-designed learning and view ourselves as true professionals with a hunger for growth and improvement," said Kevin Denton, teacher at Polaris Expeditionary Learning School in Fort Collins, CO. "These grants reignite the fire that was inside when we all first made the decision to teach. Fund for Teachers grants are good medicine for teachers and the teaching profession as a whole." With his Fund for Teachers grant, Denton observed micro lending, well water and poverty initiatives in Rwanda to create a middle school math/economics unit that demonstrates math's role in solving real world problems.
Teachers from across the country apply for Fund for Teachers' individual grants (up to $5,000) and team grants (up to $10,000) beginning in October through an online application. Recipients are notified in April and embark on foreign and domestic fellowships throughout the summer. Since 2001, more than 5,500 teachers have transformed $20 million in Fund for Teachers grants into new skills and knowledge that advance students' learning.
Fund for Teachers trusts applicants to select the topic and time frame of their fellowships, which also validates teachers' leadership and professionalism.
"I was able to study completely new content which will transfer well to students this fall," said Celeste Coleman, teacher at the Bronx High School for Law, Government and Justice in New York City. "In addition, I feel invigorated and refreshed in anticipation of being back in the classroom with all of my new knowledge and experiences." With her Fund for Teachers grant, Coleman researched Eastern art across China to create a curriculum that dispels students' misconceptions about Asian arts and culture.
This year's class of Fund for Teachers Fellows posts updates from their odysseys on the organization's Facebook, Twitter feed and blog. Eligible teachers may submit applications for 2014 Fund for Teachers grants beginning October 1 at http://www.fundforteachers.org
Fund for Teachers enriches the personal and professional growth of teachers by recognizing and supporting them as they identify and pursue opportunities that impact their practice, students and school communities. For more information, call 1.800.681.2667.