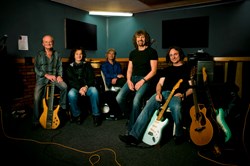 Argent and Blunstone find Zombie heaven again.
Napa, CA (PRWEB) August 08, 2013
The Zombies were the second UK group following the Beatles to score a #1 hit in America. With gorgeous melodies, breathy vocals, choral back-up harmonies and a jazzy influence, The Zombies ruled the 1960's with hit singles like "She's Not There" and "Tell Her No". Ironically, the group broke-up in 1968 just prior to achieving their greatest success with the chart-topping single "Time of the Season", from their swan-song album "Odessey & Oracle" (recently ranked #80 in Rolling Stone's "500 Greatest Albums of All Time"). Lead singer Colin Blunstone went on to develop an acclaimed solo career, while keyboardist/songwriter Rod Argent rocked arenas in the 70's with his eponymous band ARGENT.
Over 30 years later, Blunstone and Argent resurrected The Zombies, paying tribute to the group's musical legacy and collaborating on new studio material. Helmed by founding members Rod Argent and Colin Blunstone, the group is marking its half century with a new album – Breathe Out, Breathe In – and a tour. The ten songs that make up Breathe Out, Breathe In are impeccably crafted pieces; the harmonies are rich, the melodies full, the arrangements exquisite, the organ and piano fresh and the production intuitive. Uncut Magazine raves "Argent and Blunstone find Zombie heaven again." Starting in September, Argent and Blunstone are joined onstage by bassist Jim Rodford (formerly of Argent and The Kinks), Rodford's son Steve on drums, and renowned session guitarist Tom Toomey, performing a dazzling retrospective of the cherished Zombies catalogue, favorites from their post-Zombies careers, and of course songs from Breathe Out, Breathe In.
Tickets for The Zombies plus E Tu Bruce are $40/50. They are on sale now and can be purchased through the theatre website at http://www.uptowntheatrenapa.com, at Ticketmaster (http://www.ticketmaster.com) or at the theatre box office (please call 707.259.0123 ext. 6 for hours). To find out more, please visit http://www.uptowntheatrenapa.com.
The Uptown Theatre Napa is downtown's ultimate destination for live concerts. Nestled in the famed West End district, this stunningly restored art deco masterpiece showcases only the finest acts, featuring music, comedy and more. An historic landmark, the Uptown offers a phenomenal, intimate live show experience, with excellent site lines and world class sound and lighting. As concert venues go, this is the place to be. Every seat is a great seat so buy concert tickets now!