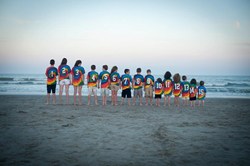 The new online platform will make the overall ordering and purchasing experience stress-free.
Philadelphia, PA (PRWEB) August 12, 2013
In their latest site update, Rush Order Tees has launched a new initiative that is an industry first. The company has introduced via social media and their site a new process by which all visitors - b2b and b2c - can more easily purchase custom t-shirts online. With the new system, visitors can choose to order custom apparel without designing at all.
For many busy consumers and professionals, the previously mandatory process of designing first, before viewing your price, was a point of friction. For those who don't want to design, this can be intimidating and time-consuming.
With an industry first, the company has developed an online platform that lets customers see the costs of bulk rates up front. Visitors can view the difference between purchasing different t-shirt bundles. The interactive feature also allows customers to adjust bundle quantities while displaying price changes in live time. The prices provided are formulated with Rush Order Tees' most popular white G200 t-shirt and one color screen printing. After building the order, customers are then able to customize the order if needed and are provided the new prices with each adjustment.
The company's Chief Strategy Officer Ron Reed, explained that the new method of bundling popular products will help speed up the ordering process and provide accurate price points. The new online platform will make the overall ordering and purchasing experience stress-free to Rush Order Tees' existing and potential client base.
A Time article explained some of the issues consumers have with online purchases and one of the biggest issues is price. Many websites withhold prices or change prices throughout the ordering process. Rush Order Tees' bundle packages shoe the price upfront and adjust the price when the consumer adjusts the order. The other pricing conflict that frustrates potential customers is when websites add expensive shipping fees after the customer has already entered their credit card information, which changes the price again. Most of Rush Order Tees' customers are already eligible for free shipping, but if there is a shipping charge the cost is provided immediately through the ordering portal.
Learn more about bundles at http://www.rushordertees.com/bundles/g200/25/50/100.
About Rush Order Tees
For over a decade, the customized apparel company has specialized in printing high-quality t-shirts, hoodies, bags, and hats for a wide variety of companies, charities, schools, and individual clients. Their business goals focus on expediting orders from ten t-shirts to two hundred with the same courteous and professional customer service. Previous clients have included Google, Amazon, and Microsoft.
Contact Rush Order Tees at (800) 620-1233