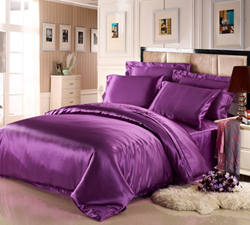 white and black are the classic colors, customers have a large demand for them
NewYork (PRWEB) August 11, 2013
Lilysilk.com, the world's distinguished silk manufacturer, is expanding their 25 momme bedding collection to include two new colors. White and black color are the two latest additions to meet customers' demands. So far, 25 momme silk bedding set has five colors, including ivory, white, coffee, violet and black color.
25 momme silk is the best silk fabric in the bedding market nowadays. There are few companies selling so luxury bedding like Lilysilk, which also offers the 22 momme and 19 momme silk sheet set. These sheet sets feature a large color collection, while few colors can be found in the silk market about 25 momme, let alone complete sizes. Lilysilk, as the professional and largest silk manufacturer in the world, adds two new colors to 25 momme bedding set which has already have 3 colors.
Mark Lee, CEO and Founder of Lilysilk, explains "White and black are the classic colors, customers have a large demand for them, we should design these two color bedding set for our customers." White color silk bedding creates much more luxury to bedroom decor. While black bedding is popular in the market. What's more important, "The 25 momme silk bedding is much more soft and durable," Mark added. Spend almost the same price, but enjoy a totally different comfort and softness. In addition, sleeping with these organic silk sheet set, worries of facial lines and dry hair have gone.
About lilysilk.com
Lilysilk.com is a top level silk bedding manufacturer in China, which values silk benefits to everybody's skin and hair. They update their item range frequently, including 19 momme silk bedding set, 19 momme seamless silk bedding set, 22 momme seamless silk bedding set as well as the 25 momme luxury bedding set. More colors available, pure mulberry silk fabric, delicate craftsmanship, free and speedy shipment, affordable price as well as the excellent customer service, are reasons for you to choose.
For more information please visit: http://www.lilysilk.com .