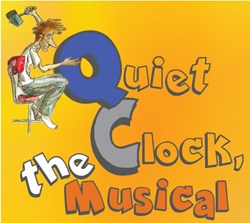 We are working to develop the highest quality children's entertainment at affordable prices. Every child should have the right to see live theatre, the benefits are enormous.
New York, NY (PRWEB) August 12, 2013
Quiet Clock, The Musical will premiere at Stage 72 in New York City on October 6, 2013. Performances are currently scheduled for every Sunday afternoon at 1:00 & 3:00pm through December. The show is approximately 60 minutes long and suitable for ages 2 thru 102.
The production is described as a charming children's musical has enchanting, yodeling melodies based on Swiss children's songs, comical scenarios, and delightful rhyming characters! Jump into a fairy tale story of Mr. Yawns who wakes with a shock to his blaring, bleeping alarm clock. It pings and it pongs all day long in his head, so loud and so stabbing it could wake up the dead! But Mr. Yawns is an amazing inventor who decides to solve his problem by inventing an alarm clock that does not ring. That's right, and alarm clock that does not ring! Quiet Clock, The Musical is based on the book by Britt Nichols and is a wonderfully entertaining production that contains important moral lessons for children and adults alike.
"We are working to develop the highest quality children's entertainment at affordable prices. Every child should have the right to see live theatre," says director Adam Karsten. Karsten believes that theatre can be an integral part of aiding in discipline, moral value, imagination, and academic performance. National studies have shown that students of theatre outscored non-arts students on the SATs by an average of 70 points.
Stage 72 theatre is the newly renovated theatre located at 158 West 72nd Street between Amsterdam & Columbus Avenues next to Acker Merrill Wines and opposite Tip Top Shoes (on the 2nd floor above Seven's Grill). It is ideal for children and parents of all ages.
Tickets can be purchased online now at Brownpapertickets.com or at the box office prior to each performance.
Creative Team
Adam Karsten wrote the show as well as the lyrics and some additional music with the shows musical arranger Christine Riley. Musical orchestrating is by Doug Oberhamer and choreography by Karen Sieber. Producing partner is Weathervane Playhouse in Newark, Ohio. The costume designer is Cora Childress and scenic design is by Seth Slagel.
More information can be found at http://www.quietclockthemusical.com .
About A2K Productions, LLC
In 2005 Adam Karsten and Karen Sieber created A2K Productions, LLC. A production company formed to bring continued excellence to stage, film and television projects, A2K Productions seeks dynamic and imaginative ways to direct and choreograph each production. http://www.a2kproductions.com
About Weathervane Playhouse (Newark, Ohio)
Weathervane Playhouse is Ohio's longest running professional, non-profit, summer stock theatre. Weathervane had its birth in a barn in Heath, Ohio, July 8, 1969, opening with a most appropriate musical, Good News! As a supporter of Children's Theatre through its continuing theatre education program (Weathervane Young Artist Repertory Theatre-WYART), Weathervane is proud to be part of this new children's theatre production.