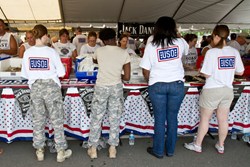 If it were not for these men and women who are serving, the people we are packing these bags for, we would not live in the country we live in today. And it is imperative that we take care of them. - Craig Morgan
Fort Bragg, NC (PRWEB) August 09, 2013
To commemorate an eight-year history, and the 20th "Toast to the Troops" care package assembly event, over 5,000 Operation USO Care Packages were assembled yesterday by military spouses, USO North Carolina volunteers and Jack Daniel's employees at the Fort Bragg fairgrounds. Following the assembly event, Country Music Star and Army Veteran Craig Morgan treated more than 3,000 troops, military families and members of the Fort Bragg community to a free concert.
Toast to the Troops began in 2005, and in the 20 events held across the country, more than 172,000 Operation USO Care Packages have been assembled for troops serving overseas. Fort Bragg last hosted an event in 2008. Operation USO Care Packages include items frequently requested by service members, such as prepaid international calling cards, toiletries, sunscreen, playing cards, and snacks. Packages assembled at Toast to the Troops events also include a "toast" card – a personal message of support, collected by Jack Daniel's and the USO. USO North Carolina volunteers led the assembly effort, with more than 150 volunteers representing USO North Carolina's presence at Fort Bragg and throughout the state.
"Supporting our military and their families throughout North Carolina is central to what we do," said Renee Lane, Center Director, USO of North Carolina Fort Bragg. "To be able to assemble these care packages for our men and women in uniform serving overseas means so much to this community and we are excited to have Craig Morgan back at Fort Bragg to commemorate this 20th Toast to the Troops."
The 20th Toast to the Troops event also marked a return to Fort Bragg for ten-year Army veteran and country music artist, Craig Morgan, who was stationed at the base during his military service. Morgan, who has participated in every Toast to the Troops event, held a free and open-to-the-public concert following the care package assembly. Prior to becoming a country music star, Morgan spent more than 10 years of active duty in the Army and an additional nine years in the Army Reserves. Morgan is an avid supporter of America's military personnel and a recipient of the 2006 USO Merit Award.
"If it were not for these men and women who are serving, the people we are packing these bags for, we would not live in the country we live in today," said Morgan. "And it is imperative that we take care of them."
The USO has distributed more than 2.3 million care packages since the program began in 2003. In addition to providing service to men and women with needed items, the care packages serve as a touch of home and a reminder to our troops that America is always by their side.
"Thank you to Jack Daniel's employees and volunteers for their support at the past 20 events over our eight year history," said Kelli Seely, USO Senior Vice President of Development and Chief Development Officer. "More than 172,000 care packages for our men and women in uniform is a real testament to their dedication and support for America's troops."
More information on the Operation USO Care Package program and other USO programs supporting active duty military and their families can be found at http://www.uso.org/. For more information about USO North Carolina's programs and services, visit http://www.uso-nc.org/. To view photos from the event click here.
###
About the USO
The USO lifts the spirits of America's troops and their families millions of times each year at hundreds of places worldwide. We provide a touch of home through centers at airports and military bases in the U.S. and abroad, top quality entertainment and innovative programs and services. We also provide critical support to those who need us most, including forward-deployed troops, military families, wounded warriors and families of the fallen. The USO is a private, non-profit organization, not a government agency. Our programs and services are made possible by the American people, support of our corporate partners and the dedication of our volunteers and staff.
About Jack Daniel's
Officially registered by the U.S. Government in 1866 and based in Lynchburg, Tenn., the Jack Daniel Distillery, Lem Motlow, proprietor, is the oldest registered distillery in the United States and is on the National Register of Historic Places. Jack Daniel's is the maker of the world-famous Jack Daniel's Old No. 7 Tennessee Whiskey, Gentleman Jack Rare Tennessee Whiskey, Jack Daniel's Single Barrel Tennessee Whiskey, Jack Daniel's Tennessee Honey, Jack Daniel's Tennessee Whiskey-Based Ready-to-Drink Beverages and Jack Daniel's Country Cocktails.
Jack Daniel's encourages its friends to drink responsibly.