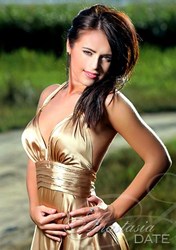 (PRWEB) August 12, 2013
AnastasiaDate.com is known around the globe as one of the leading international dating services. The company recently announced that it has added a new email function to its popular dating app.
The dating app, which is available from Google Play, is growing in popularity as thousands of members download it, so they can enjoy the flexibility of online dating via a mobile device. AnastasiaDate.com is well known for its innovations and creative use of technology to provide an exclusive dating service to members. For over twenty years, the company has used the most talented developers to create state of the art functions and platforms for members to use and enjoy.
This recent announcement is the latest in a long line of developments and improvements the company has made to the service. AnastasiaDate.com is dedicated to ensuring it always provides the best, and one way it achieves this is by continually improving the service. Feedback from members regarding the new email function is very positive. Many have been recorded as saying it has made it even easier to connect with other members and enjoy getting to know them.
The company has been experiencing huge growth in recent months as a result of the recently launched app. In addition, the popularity of the service is being shared by members on social media platforms around the globe. This is having a positive effect on membership figures, the company told us recently. Figures have been steadily climbing each month for AnastasiaDate.com.
The largest percentage of male members are American, although AnastasiaDate.com is becoming increasingly popular in other countries around the world too. The company told us that membership figures are climbing in South America and in various locations around Europe.
The new email function on the app is extremely easy to use, members are saying. In addition, it is proving to be very popular as the perfect tool to make an initial introduction to a charming international lady. Gentlemen from all over the world are using the app to access their profile, search members, and connect with stunningly beautiful ladies who are available to speak to them. Romances are blossoming all over the planet thanks to AnastasiaDate.com!
The company is certain that news of the new email function in the AnastasiaDate.com app will encourage even more members to download it and try it for themselves.
The company is dedicated to providing an exclusive and high quality dating service to all its members, currently totalling over four million. The AnastasiaDate team works hard to make sure the service is running well and that all members can enjoy uninterrupted online dating, at any time of day or night.
With such an international clientele, the service must be accessible at any time, to suit all time zones. And, the company told us, romance does not have a stopwatch! AnastasiaDate is obviously proud of its leading role as a trusted and valued international match-maker, helping wonderful people find romance and companionship across the miles.
About Anastasia Date
AnastasiaDate is the leading international dating service that facilitates exciting and romantic companionship with beautiful and interesting women from all over the world. Founded in 1993 by a Russian-American couple, AnastasiaDate now has over 4 million international users and attracts more than 10 million online visits monthly. Additionally, over 1.5 million conversations are exchanged onsite daily. AnastasiaDate is committed to member safety, customer satisfaction and the on-going pursuit of innovation. Headquartered in Moscow and New York with additional representation in every country it touches, AnastasiaDate provides a high level of customer service to a worldwide clientele. AnastasiaDate users are able to communicate across a variety of top-notch multimedia platforms, including video chat and a mobile app for Android devices available in the Google Play store.