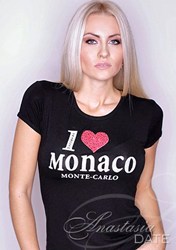 (PRWEB) August 13, 2013
AnastasiaWeb has been helping single people from all over the world find romance for over two decades. The company, which is known for providing an exclusive online dating service, is celebrating this month after more than twenty years of successfully helping wonderful people to connect with each other.
The company, which recently implemented a wide range of new improvements to its website and to membership services on its mobile app, is a leader in using state of the art technology to help people find love across the miles. The name of AnastasiaWeb is synonymous with high quality and effective dating in the dating industry.
Over recent months, the company has witnessed huge growth in popularity for its services. Thousands of new members, particularly from America and Europe, are joining up so they have chance to meet and connect with an attractive and interesting partner from over-seas. At the moment, AnastasiaWeb has over four million members, but this figure is growing, and it surely will not be long until the company celebrates reaching five million members.
With thousands of members accessing the online services on a daily basis, the AnastasiaWeb team is always extremely busy. The team is always on hand, and working hard to make sure all the member services are running perfectly.
The international aspect of the service AnastasiaWeb provides is why the company is so popular amongst its millions of members. For example, handsome, successful businessmen from America can log on and enjoy chatting to beautiful international ladies. Members can have intelligent and witty conversations with some of the world's most attractive women, thanks to the popular dating service.
There are many other dating websites on the internet today, but they only offer the basic package, where people simply meet local individuals who are looking for a date. AnastasiaWeb offers a range of services which are far more exclusive than that, the company told us recently.
Members of AnastasiaWeb receive a five star service during their entire membership and in every aspect of their online dating experience. Members have the opportunity to meet and talk to the finest and most successful people, who are also interested in meeting someone new and special.
The company told us recently that blossoming romances are a daily occurrence, with many members eager to share their love stories via social media, and as feedback and thanks, directly to the customer services team.
The AnastasiaDate team told us it is delighted to be instrumental in helping so many people find romance and companionship. This is especially poignant since these romances are international, and members might never have met without the exclusive services AnastasiaDate provide.
While members enjoy themselves, and love blossoms across the world's oceans, the AnastasiaDate team is busy, twenty-four hours per day, making sure that all the services are running well, and that the website is performing to maximum capacity.
It is the professionalism and attention to detail which is resulting in the company's continued popularity, and its highly regarded standing within the online dating industry, as one of the world's leading companies.
About AnastasiaDate
AnastasiaDate is the leading international dating service that facilitates exciting and romantic companionship with beautiful and interesting women from all over the world. Founded in 1993 by a Russian-American couple, AnastasiaDate now has over 4 million international users and attracts more than 10 million online visits monthly. Additionally, over 1.5 million conversations are exchanged onsite daily. AnastasiaDate is committed to member safety, customer satisfaction and the on-going pursuit of innovation. Headquartered in Moscow and New York with additional representation in every country it touches, AnastasiaDate provides a high level of customer service to a worldwide clientele. AnastasiaDate users are able to communicate across a variety of top-notch multimedia platforms, including video chat and a mobile app for Android devices available in the Google Play store.