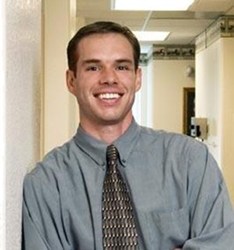 It will help our patients' experience be everything they expect from a 21st century dental office.
Aurora, CO (PRWEB) August 11, 2013
Aurora Family Dentistry in Aurora, CO is relocating to 13700 East Colfax Ave. Unit M, Aurora, CO 80011. The new office, opening in October, will feature four treatment rooms in 1800 square feet of space and will include new dental chairs, new equipment and a new 3D panoramic x-ray machine. This new equipment and larger office will help Dr. Landon Blatter, DDS, Dr. Kyle J. Ricks, DDS and their staff continue to provide patients with comprehensive dental services, from minimally invasive dentistry to restoration and cosmetic dentistry.
The old Aurora Family Dentistry office was acquired from Dr. Kenneth Hammon in July 2008. Aurora Family Dentistry quickly established itself as one of the leading dental offices in the area through its use of state-of-the-art dental technologies, its practice of minimally invasive dentistry and the kindness, compassion and gentleness of Dr. Blatter, Dr. Ricks and the Aurora Family Dentistry staff.
The new Aurora Family Dentistry office will feature a number of improvements aimed at providing patients with best possible dental care possible. Dr. Blatter stated, "We are excited about our new location. It will help our patients' experience be everything they expect from a 21st century dental office."
Along with the state-of-the-art technology used at their old location such as digital x-rays, intra-oral cameras, laser cavity detectors, lasers for periodontal therapy and cold sore treatments, VELscopes for oral cancer scans, and same-day-crown machines, the new Aurora Family Dentistry office will include a 3D panoramic x-ray machine. The new X-ray machine allows Dr. Blatter and Dr. Ricks spot tooth decay earlier and easier than before. More importantly, this new technology allows diagnosis without the need to place anything in the patient's mouth, making the x-ray process much more comfortable for patients. In addition, the new office offers more space, a more visible and convenient location, new dental equipment and new dental chairs.
Dr. Blatter added, "Embracing effective dental technology is very important to us at Rocky Mountain Dental Partners. We feel it is by the implementation of technology that we can help all of us save our teeth for a lifetime. We don't have to do dentistry the same way we did in the 80s. In fact, we shouldn't."
Dr. Blatter received his dental degree from the Harvard School of Dental Medicine and was selected by his fellow Colorado dentists as 5280 MAGAZINE's "2009, 2010, and 2011 Top Dentist of Colorado." Dr. Blatter is an expert in implant, cosmetic, restorative and family dentistry and performs comprehensive treatment for the entire family in his Aspen Springs Dental and Aurora Family Dentistry practices.
Dr. Ricks received his D.D.S. degree from Indianapolis University School of Dentistry and is an active member of the American Dental Association, Colorado Dental Association and the Metropolitan Denver Dental Society. Dedicated to continuing education, Dr. Ricks feels that learning is a lifelong quest. Dr. Ricks specializes in restorative and cosmetic dentistry at the Aurora Family Dentistry office.
The team at Rocky Mountain Dental Partners believes a great smile is priceless and everyone deserves the look and feel that great smile can bring. With locations in Aurora, Centennial and Cherry Creek, Rocky Mountain Dental Partners are available to answer your questions about their new location, new equipment or any other dental care question you have in order to help you achieve the smile you have always wanted. To become a patient or for more information, please call 720-238-2977 or visit http://www.dentistsindenver.com.