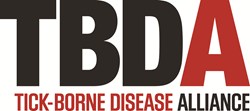 New York, N.Y (PRWEB) August 12, 2013
The Tick-Borne Disease Alliance (TBDA) and Southampton Hospital are joining forces to fight tick-borne diseases. On Sunday, August 25, Bite Back for a Cure, TBDA's national grassroots campaign to build support for the fight against the devastating impact of tick-borne diseases, will stop in Southampton, NY. Led by 24-year-old Lyme sufferer and cyclist John Donnally, Bite Back for a Cure, which includes a cross-country bike ride and interactive digital components, will raise awareness and galvanize local support for TBDA's mission to fund research and educate the public about the silent epidemic of tick-borne diseases.
Bite Back for a Cure: Southampton will begin with an eight-mile bike ride through the historic village of Southampton. Riders of all ages are invited to participate. Registration is $30 per person and $60 per family. Check-in will begin at 8 a.m. at Rotations Bicycle Center. The race will begin at 9:30 a.m. Bike rentals will also be available.
"TBDA is thrilled to launch Bite Back For A Cure, which will help us build momentum on a national scale and reach local communities throughout the country to fight what has become a truly national health epidemic," said Staci Grodin, TBDA president.
"The collaboration of the Tick-Borne Disease Alliance with Southampton Hospital is a timely and important initiative that will be of value to people throughout the East End. This is a major first step in raising the funds necessary to create and sustain a Center for Tick Borne Diseases at Southampton Hospital," said Melanie Wambold, a long standing volunteer and supporter of the hospital where her husband, John, serves as a member of its Board of Directors.
A former Colgate lacrosse player, Donnally was diagnosed with Lyme disease in 2003 and again in 2011. His personal passion is fueled by the fact that others in his family also suffer with Lyme disease. During Bite Back for a Cure: Southampton, Donnally will meet with others affected by tick-borne diseases. These inspirational interviews will be documented on BiteBackForACure.org.
"By 2020, it's expected that there will be over 600,000 new cases of Lyme disease every year, and one in five of these patients will likely suffer with long-term symptoms – just like me and my family," said Donnally. "Through my trip across America, I want to raise awareness and build support to defeat these debilitating diseases. Together we will make a difference."
In September, Donnally will lead rides in Albany, N.Y., Syracuse, N.Y. and South Wales, Pa. In addition to the cross-country bike tour, Bike Back for a Cure also includes an interactive online campaign led by Candice Accola, star of the hit television series The Vampire Diaries. Over time, the online campaign will accumulate a national "video quilt" of individual photos and statements from those affected by tick-borne diseases. This "video quilt" will be sent to state and federal legislators, encouraging them to support Lyme-disease legislation. To view Accola's PSA that she filmed for TBDA earlier this year, click here.
"The online campaign is another crucial element of Bite Back for a Cure, and I encourage everyone in Southampton to bring signs and take photos so we can put an end to this national health crisis," Donnally explained.
To register for Bite Back for a Cure: Southampton, visit http://bit.ly/BiteBackSH.
To learn more about Bite Back for a Cure and how you can get involved, visit BiteBackForACure.org.
For more information about the health crisis posed by Lyme and other tick-borne diseases, visit TBDAlliance.org.
###
Media Contacts:
Phil & Company
Brittnie Mabry, brittnie(at)philandcompany(dot)com, 646.490.6446
Morgan Procida, morgan(at)philandcompany(dot)com, 646.490.6446