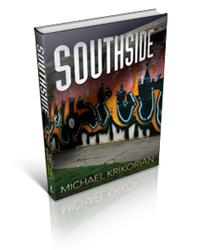 'In a place as well traveled by storytellers as Los Angeles, Michael
Krikorian blazes a unique path with this powerful first novel.'
—Michael Connelly, New York Times best-selling author of The Black Box
Longboat Key, Florida (PRWEB) August 12, 2013
Oceanview Publishing will release SOUTHSIDE by renowned Los Angeles Times crime reporter, Michael Krikorian on November 5, 2013.
SOUTHSIDE will be released in Hardcover (ISBN: 978-1-60809-055-6, Thriller, 288 Pages, List Price: $26.95), and all Digital eBook Platforms (ISBN: 978-1-60809-056-3, List Price: $14.95)
Oceanview Publishing provided this synopsis of the storyline:
"Los Angeles Times gang reporter Michael Lyons has just left his favorite downtown saloon when he is shot and wounded on the sidewalk two blocks from City Hall. After the initial shock, fellow reporters put together a betting pool. The bet? "Who Shot Mike?" There are a lot of contenders.
When the LAPD's investigation stalls, the Times runs editorials critical of the police. Then, when detectives uncover an audio tape of Lyons talking to a gang member about the benefits of getting shot, they release the tape. The embarrassed newspaper editor fires Lyons, who then sets out on the streets of Southside Los Angeles with a vengeance to find the shooter.
When three seemingly unrelated people are murdered on the streets of L.A., Lyons connects them to his own shooting. The tie-in? An imprisoned, notorious gang shot-caller known as Big Evil, who Lyons made famous in a gang profile and whose younger brother is among the victims. But who is doing the killing?"
The Buzz:
"In a place as well traveled by storytellers as Los Angeles, Michael Krikorian blazes a unique path with this powerful first novel. Southside has muscle, insight and all the right stuff. Krikorian is an exciting new writer who has put all his experience and wisdom to work here."
—Michael Connelly, New York Times best-selling author of The Black Box
"In a sea of crime novels, it's refreshing to find one by someone who clearly knows his territory, and Michael Krikorian is certainly that kind of writer. This story of L.A.'s gang world is gritty and real and utterly compelling. If you like the cut-to-the-bone sense of place that permeates the novels of James Ellroy, George Pelecanos, and Richard Price, then Krikorian's Southside should be high on your reading list."
—Michael Koryta, Los Angeles Times Book Prize winner and author of The Prophet
Author Bio:
Michael Krikorian was born and raised in Los Angeles. His crime stories and personal essays have appeared in the Los Angeles Times, Fresno Bee, Los Angeles Weekly, New York Times, and Cycle News. He has reported extensively on Los Angeles's notorious street gangs and receives more letters from inmates in California state prisons than he does bills and junk mail combined.
SOUTHSIDE is distributed by Baker & Taylor, Ingram, Midpoint Trade Books, Overdrive, and other industry distributors. SOUTHSIDE will be available through all better booksellers.