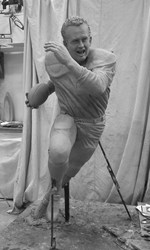 'The Green Bay Packers have been an iconic piece of Wisconsin heritage for generations, and the statues we are adding throughout the trail will be a fantastic representation of that heritage.' --Sean Bell, Artist
(PRWEB) August 09, 2013
This month, the world renowned artists from the Fine Art Studio of Rotblatt Amrany are in the midst of creating a multiple-sculpture installation commemorating the Green Bay Packers organization. Seven life-sized bronze sculptures are in the process of creation, 3 of which will be unveiled September 14th. The final four are tentatively set to be unveiled by Thanksgiving, in a designated location in downtown Green Bay Wisconsin.
The sites of these amazing statues will be located along the Packers Heritage Trail, which starts approximately 2.5 miles northeast of Lambeau Field. The trail encompasses 3 miles and was designed as a self-guided walking tour that highlights the rich, and sensational history of the Green Bay Packers. The trail also commemorates the community's role in preserving the storied Green Bay Packers franchise. Showing how their undying devotion to their beloved football team pulled the community through years of financial struggle.
The story told along the trail is focused on the earliest years of the legendary football team, under the reigns of Curly Lambeau and Vince Lombardi – from 1919 through 1968. The history is presented on 22 commemorative bronze plaques, at such landmarks as Lambeau's Birthplace Home and the Birthplace of the Packers.
Trailgoers will stop at the courthouse where perhaps the most contentious meeting in Packers history took place when Lambeau's enemies tried to oust him as coach, and the hotel where Lombardi's introductory press conference was held after he was hired as the Packers' head coach, among many others. Visit packersheritagetrail.com for a map, and details on the specific historical sites featured.
Sean Bell, Artist of Johnny "Blood" McNally, one of the three statues to be unveiled on September 14th from The Fine Art Studio of Rotblatt Amrany stated, "We are excited to be a part of this historic installation in the community. The Green Bay Packers have been an iconic piece of Wisconsin heritage for generations, and the statues we are adding throughout the trail will be a fantastic representation of that heritage."
ESPN will be featuring one sculpture in particular of Green Bay Packer Hall of Famer Paul Hornung. Hornung was perhaps the key contributor to the Packers' success during the "dynasty years" of the 1960s, scoring 760 points in nine seasons on 62 touchdowns, 190 PATs and 66 field goals. Known as "The Golden Boy," Hornung was a strong leader to whom the Packers looked for big plays in key games.
About The Fine Art Studio of Rotblatt Amrany
Headquartered in Highwood, Illinois, The Fine Art Studio of Rotblatt Amrany is a premier fine art studio and cutting edge art school. Julie Rotblatt Amrany and Omri Amrany have developed their studio with over 20 years of fine art experience in their portfolios, art of the Studio Artists and Commissions like "The Spirit: Michael Jordan," Vince Lombardi and others. To view their extensive portfolio of commissions and fine art, visit their website at http://www.rotblattamrany.com.