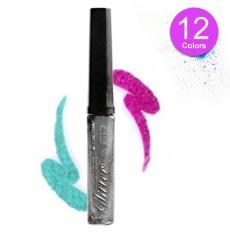 Even a decade ago, it was really hard to find inexpensive makeup that was any good at all.
Los Angeles, CA (PRWEB) August 09, 2013
Lady de Cosmetic, an online cosmetics retailer, has unveiled the new L.A. Colors Glitter Eyeliner, a hotly anticipated eyeliner, two years in the making. But this is more than just a new eyeliner, its also part of a radical change in the way the cosmetics industry does business.
There's a new buzzword in the makeup world these days: affordability. When economic times are rough, the first items removed from the family budget are "luxury items," which includes vacations, new electronics and even makeup.
"Even a decade ago, it was really hard to find inexpensive makeup that was any good at all," says one industry source. "But places like Lady de Cosmetic have really changed that. They have a huge selection, and at prices well below anything consumers can find in a brick and mortar store. It's a new business model for the cosmetics industry and, frankly, it's making the so-called 'big names' mad."
The new L.A. Colors Glitter Eyeliner delivers sparkling glitter in just one swipe, instantly adding impact and excitement to the eyes. It comes in a dozen colors, and is the latest expansion to the Lady de Cosmetic eye makeup inventory.
"We have a huge selection of cosmetics products," says Daniel D., General Manager of Lady de Cosmetic. "In addition to our eye makeup, we offer lipsticks, eyebrow kits, pencils, application brushes, eyelashes and much more. Basically, we have it all—and at a price that puts the competition to shame."
"Our secret is our wholesalers," he continues. "We have long-established relationships with wholesalers from around the globe. So because we get a good deal, we can in turn offer a good deal. But don't be fooled by the price—this is premium quality makeup, used by many professional makeup artists."
It remains to be seen how the cosmetics industry as a whole will ultimately react to this new business model, as Lady de Cosmetic is currently the only retailer able to provide such a low price point for premium quality cosmetics.