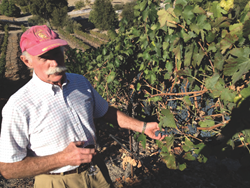 "He's an amazing guy, a man of many talents," says Shelley Gill about her husband Michael.
Paso Robles, CA (PRWEB) August 12, 2013
A hunter, a dentist and winemaker walk into a bar, and the bartender pulls out just one glass.
Why? Because, in this case, all three roles belong to the same man: Michael Gill, owner of the eponymous Paso Robles winery, Michael Gill Cellars, who also draws from his experience in each for his present mission: making award-winning wines.
With precision, instinct, patience and determination, Gill seems to have narrowed in on the perfect property, the ideal Rhone varietals, and best methods to craft wine unlike any other.
And there is now no question he has a palate for the art. In his first year entering the Central Coast Wine Competition, he entered four wines and came home with four awards: he swept the Syrah competition, winning the impressive Best in Class and gold medal for his 2010 Tuxedo Syrah, along with a silver for his Big Rock Syrah and a bronze for his Black Tie Syrah. Additionally, he won a bronze for his Tantrum Tempranillo.
The victories establish Michael Gill Cellars as one of the top boutique wineries in Paso Robles.
"Personally, I think our Tempranillo is a gold medal," says Michael Gill's wife, Shelley, with a laugh. "But they didn't ask me."
She says they were happily surprised by their strong showing at this year's competition. "We just opened 15 months ago," Shelley explains, saying that some tasting room guests who were judges at other competitions had encouraged them to enter their wines. But still, the Gills had not been sure what to expect. "We were completely blown away."
Shelley, who runs the tasting room and helps her husband pour on the weekends, says she hopes the recent accolades will help put their winery on the map. With less than 1,000 cases and being relatively new on the winemaking scene, their brand is currently enjoying a bit of the off-the-radar mystique. Even Marketing Director Chris Taranto at Paso Robles Wine Country Alliance admitted that he didn't know the winery first-hand.
But guests who do make their way to the tasting room, tucked into the wild wine country of the west side on Peachy Canyon Road, need not fear finding an untamed facility in the early, awkward stages of developing its brand. On the contrary, Michael Gill Cellars' property is as surprisingly mature, sophisticated and spectacular as their award-winning Syrahs.
Shelley explains that her husband has owned the property since the mid-1970s. "He credits our neighbor Robert Nadeau with planting Syrah," she says, adding that Nadeau's sage insight led Gill to plant the variety back in 1998.
For ten years, Gill grew the grapes, sold the juice and let other people win the awards. "He began noticing that no matter who the winemaker was, his juice had a distinct nose and taste to it," Shelley says. So, in 2008, he decided to put his own label on the wine, building a winery and introducing his first vintage in 2008.
And considering the type of person Michael Gill is, it's not really so surprising that just a few years later, he left the awards ceremony laden with medals.
"He's an amazing guy, a man of many talents," Shelley says, without even a note of personal bias. She explains simply that when he does something, he does it well. She points out that he is a world-class, much-decorated hunter, and a practicing dentist with a degree from USC Dental School.
The hunting theme is ever-present in the tasting room, which is adorned by a striking taxidermy display, while the dental influence can be seen more in the surgical care with which he inspects his vines, and blends his wines. "I like to say, 'He was a hunter and then he became a gatherer,'" she laughs.
Tasting one of the "big, big" Syrahs at Michael Gill Cellars, it's clear that there is more than simple berry picking involved here. The winemaker uses words like "raw," "wild" and "chewy" to describe the deep and complex ruby-hued wines. Gill is not an average maker of wine. This is a hunter and a doctor of wine.
Meet the mystery man behind Michael Gill Cellars on Saturdays and Sundays from 11a.m. to 5 p.m. at 4125 Peachy Canyon Road in Paso Robles, or visit gillcellars.com to learn more.