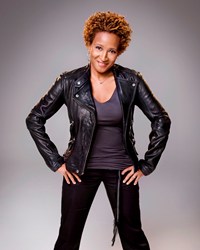 one of the funniest standup comics
Napa, CA (PRWEB) August 09, 2013
Wanda Sykes has been called "one of the funniest standup comics" by her peers and ranks among Entertainment Weekly's 25 Funniest People in America. Her smart-witted stand up has sent her career in many different areas. Sykes has been seen on several television shows including HBO's "Curb Your Enthusiasm" and "The Chris Rock Show" and Comedy Central's "Crank Yankers." She has starred in and produced "The Wanda Sykes Show" and "Wanda At Large" on Fox and "Wanda Does It" on Comedy Central.
Sykes has appeared in numerous feature films including "Evan Almighty," "Monster-In-Law, " "Over The Hedge," "The Barnyard," "My Super Ex-Girlfriend," Pootie Tang," "Nutty Professor 2," "The Klumps," and "Down to Earth." She has voiced characters in the animated features "Ice Age," and "Rio." She has produced 3 stand up specials "Wanda Sykes; Sick and Tired" on HBO and "Wanda Sykes:Tounge Untied" and "I'ma Be Me" on Comedy Central. In 2010 she won a GLAAD award for promoting a good image of equal rights for gays and lesbians.
Tickets for Wanda Sykes plus Jenny Kerr are $55/70. They are on sale now and can be purchased through the theatre website at http://www.uptowntheatrenapa.com, at Ticketmaster (http://www.ticketmaster.com) or at the theatre box office (please call 707.259.0123 ext. 6 for hours). To find out more, please visit http://www.uptowntheatrenapa.com.
The Uptown Theatre Napa is downtown's ultimate destination for live concerts. Nestled in the famed West End district, this stunningly restored art deco masterpiece showcases only the finest acts, featuring music, comedy and more. An historic landmark, the Uptown offers a phenomenal, intimate live show experience, with excellent site lines and world class sound and lighting. As concert venues go, this is the place to be. Every seat is a great seat so buy concert tickets now.