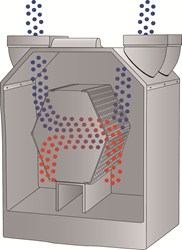 Greenland, NH (PRWEB) August 14, 2013
The Proud Green Home at Serenbe will be open to the public on August 16 & 17 and the official ribbon cutting of the home will be on August 17 at 11:00 AM. The home is tracking to be a Net-Zero EarthCraft Platinum House and incorporates the latest innovative building techniques and technologies in sustainable design. Zehnder provides the ventilation system for Proud Green Home at Serenbe. Without proper ventilation, energy-efficient construction risks mold, mildew and indoor air quality issues. This concern makes Zehnder's ERV critical in energy-efficient construction. Zehnder's ComfoAir 350 ERV ensures fresh-filtered air and a reduction of heating/cooling loads year-round while reduces the indoor humidity level during hot, humid Southeast summers. As a result, electricity bills are reduced and a comfortable indoor environment is achieved for the energy-efficient home year-round.
The monitoring of the Proud Green Home at Serenbe will allow Zehnder in collaboration with Southface Energy Institute to gather data, monitor and report several aspects of the home performance in this hot, humid climate. First, Zehnder will monitor the energy savings realized when using a high-performance heat and moisture recovery unit (ERV) and its impact on cooling and dehumidification loads. Secondly, the home will provide greater understanding and demonstrate that using an ERV in an energy-efficient home can effectively eliminate the need to use an exhaust fan in bathrooms. In energy-efficient homes with mechanical balanced ventilation, exhaust fans unnecessarily increase bathroom electrical consumption and wastes heating/cooling. The anticipated data will demonstrate the positive effects of using an ERV in a hot humid climate for moisture control.
About Zehnder America
Zehnder America is the leader in high-efficiency Heat Recovery Ventilators (HRV) and Energy Recovery Ventilators (ERV) in North America. For all high-performance homes, Zehnder's technical team will help with the designing of the Zehnder ventilation system to ensure optimal indoor air quality and comfortable living. Zehnder America is a division of the Zehnder Group, which has 3200 employees worldwide and specializes in advanced heating, cooling, and ventilation solutions. The Zehnder Group has been in business since 1895.