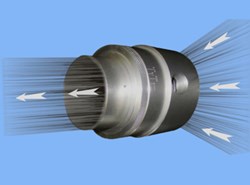 Toronto, Ontario (PRWEB) August 12, 2013
The Nex Flow™ Stainless Steel Adjustable Air Amplifiers take compressed air and entrain surrounding air to amplify Air Flow downstream. Often called "Air Movers", they move a tremendous amount of air utilizing the "coanda" effect. The downstream air produced has high velocity and "laminar flow" for strong blow-off and cleaning power.
The Stainless Steel Nex Flow™ Air Amplifiers make it ideal for their use in food service applications as well as for higher temperature and corrosive environments.
Available in three sizes - 1-1/4", 2" and 4" outlets.
Applications:

Remove water, coolant, dust and scrap in parts manufacturing/assembly operations
Cool hot spots on production equipment
Blow off of water from the tops of cans, bottles and all types of packaging prior to labeling, ink jetting, palletizing or packaging
Convey light materials and waste
Part ejection, fume removal, dust and liquid blow off from all types of parts
Replace fans for better and faster cooling in many applications
Cool, clean and dry all types of material before painting, coating or polishing
Remove mist, fumes or smoke from operations and to boost existing mist, fume and spoke fume removal systems
Trim removal in paper, film or foil operations
Advantages:

No Moving Parts
Quiet
Compact
Portable
No Electricity
Low in Cost
Superior in Design and Performance