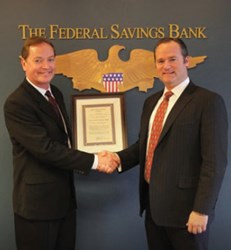 We require that somebody gets TAP training, but what we have to do is make sure there is an employer ready to hire them.
Chicago, IL (PRWEB) August 13, 2013
The Federal Savings Bank, an institution specialized in VA home loans is telling its prospective clients that due to the incompatibility of military training with civilian certifications that are used by employers, a number of job programs across the country as well as new legislation are aimed at closing this senseless gap.
On August 7th, Herald Net reported that a community roundtable discussion took place in Everett, Wash., to determine if the VOW to Hire Heroes Act is working. Standing for Veterans Opportunity to Work, the VOW bill was co-authored by Sen. Patty Murray, a Washington Democrat who is a member of the Committee on Veterans' Affairs, and was passed in 2011 amid a stark contrast between military unemployment and non-military unemployment figures. The intent of the discussion was to see if the legislation was progressing in the right direction.
Murray's legislation not only provides incentives to employers for hiring veterans, but it also beefs up the Transitional Assistance Program, designed to provide service members with training and transitional assistance when making the move back into the civilian world. Getting re-certified for skills they have already put into practice is a redundancy, according to Ben Wiselogle, veterans program coordinator at the University of Washington Bothell.
"We can require that somebody gets TAP training, but what we have to do is make sure there is an employer ready to hire them," Murray said. "We can tell employers they've got a tax credit to hire somebody, but we need to make sure there are folk who are coming out and applying for those jobs."
Building a network
The Baltimore Sun reported on August 6th that the launch of a new veterans network designed to empower veterans and mitigate the difficulty associated with the transition from military life to a civilian one. The Veterans Staffing Network provides job leads and helps revise veteran resumes to translate their skills into language that will resonate with civilian employers in addition to offering other assistance like emotional support. According to Easter Seals, an organization that runs the program, it's an updated version of a discontinued initiative once coordinated through the U.S. Department of Labor.
Last year, the unemployment rate for veterans reached nearly 10 percent - about 3 percent higher than non-veterans. For veterans ages 18 to 24, unemployment was even worse, 20 percent. In order to close the disparity between veteran and non-veteran employment, 65 percent of employers said they would take a veteran over another equally qualified civilian candidate, according to a Career Builder survey.
Contact The Federal Savings Bank today to discuss whether your military service makes you eligible for a VA home loan.