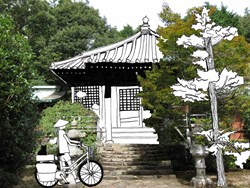 Frederick, MD (PRWEB) August 12, 2013
Maryland based writer-illustrator duo Chelsea Reidy and Elayna Snyder are launching a Kickstarter campaign to get people involved with their illustrated book project, Temple by Temple. In October, they will venture on an ancient pilgrimage route in Shikoku, Japan to 88 temples while collecting materials to produce 88 hand-bound versions of their book.
Kickstarter is a web-based crowd-sourcing platform that allows individuals to pitch their ideas to the public in hopes of receiving funding towards their project. Reidy and Snyder will use Kickstarter to help fund the making of their hand-bound books and their journey to the 88 temples. The duo will collect items, such as intricate wood block prints of each temple's emblem combined with calligraphy done by the temple priests and caretakers to be included in each of the books.
The campaign will launch August 10, 2013, and the books will be given to those who invest in the project. Individuals may also contribute a donation to receive other types of original art, including photography.
Temple by Temple follows the journey or a young girl and her cat as she travels by bike on the thousand-mile journey to the 88 temples. The book explores all the different aspects of the pilgrimage and pays homage to Kobo Daishi, a Buddhist saint, by including him in the illustrations. Many believe that his spirit still roams Shikoku, traveling with all pilgrims on their journey. Although the route is Buddhist in nature, people of all faiths set off on the path for various reasons – to explore rural Japan, to pray for good fortune, for ill loved ones and for adventure.
Reidy, author of the book, met Snyder, the artist, in Japan while teaching English. For three years they lived in Shikoku, Japan, close to the pilgrimage route where ohenro, or pilgrims, are fixed against the landscape of green mountains and blue seas. Together they completed the 900-mile circular route on bicycles.
Reidy is a native of Guam and Snyder is from Michigan. The pair met in Japan while teaching English for the JET Program. Now they are living in Frederick, Maryland using their diverse and creative backgrounds to collaborate on the illustrated book project.
Snyder has worked in many different mediums including ceramics, photography, and charcoal. Her most recent focus is illustration. Reidy spent time as a freelance writer for magazines and a newspaper, keeping her creative writing as a personal interest throughout the years.
For more information about Temple by Temple, visit Kickstarter.com or their website, http://www.bigricefield.com.