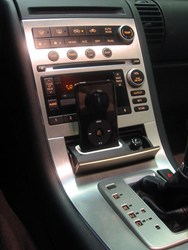 Tucker, GA (PRWEB) August 14, 2013
There are many products on the market that try to simplify the in-car iPod and iPhone experience that use the term "car dock" very loosely, but 2point5 makes the only true automotive iPod and iPhone dock for Infiniti. Patented in 2006, the spec.dock is the only product available that seamlessly integrates iDevices into a large range of vehicles.
When Apple introduced the Lightning connector to the world in 2012 on the newest model of iPods and iPhones, many automotive manufacturers had to scramble to adapt to this new technology in their car accessories. 2point5 quickly updated their entire line of vehicle-specific iPod and iPhone docks for Infiniti to use this new connector, integrating them into the only true car dock for these vehicles.
"We have been in the automotive iPod and iPhone accessories business for many years now, and know that the only way to compete is to innovate and keep up with Apple," company founder Matt Turner said Monday. 2point5's move into the Lightning connector is a perfect example of the sweeping changes that a company needs to make in order to stay relevant.
2point5 is an industry leader in iPod and iPhone accessory integration, and can be found at https://www.specdock.com/.