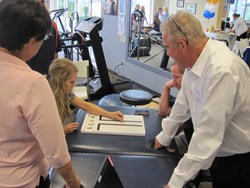 "The course was very informative and encouraging…it gave us a vision on how to expand [our services]."
(PRWEB) August 14, 2013
Rehab Management Solutions (RMS), a Physical Therapist owned-and-operated company that helps physical and occupational therapists open and grow their own practices, was excited to host a national training on July 26-27, teaching therapists from several different practices on how to properly perform functional testing. The training is part of RMS' extensive Work Injury Program Initiative (WIPI), a 4-part program that educates practices on how to become specialty clinics in the treatment of the injured worker.
The WIPI Functional Test Training component (Part 3) educates therapists on how to perform objective testing to better assess a patient's job demands. Holding a full understanding of these demands allows a therapist to create an aggressive and individualized plan of care focused on job simulation to ensure a patient's safe and timely return to work. Functional testing also allows a therapist to better determine an injured worker's consistency of effort and reliability of pain, as well as job restrictions, job modifications, and return-to-work abilities. Proactive communication on findings from functional testing with employers creates trust, making practices that specialize in these services destination centers of industrial rehabilitation.
The WIPI training is an ongoing 4-part program offering "everlasting connectivity." Providers are able to receive education on how to properly manage the treatment of the injured worker in Part 1, guidance through bi-monthly case consultation meetings in Part 2, knowledge on how to perform functional testing in Part 3, and onsite experience in Part 4. RMS tailors the program to each practice's experience levels and offers an interactive learning environment. Those that have undergone the program felt it greatly benefited their practices. Suzi Merrill, MPT, CEAS, a Private Practice Clinic Director from Marinette, WI feels "The course was very informative and encouraging…it gave us a vision on how to expand [our services]."
Rehab Management Solutions is a PT-owned and PT-led company that focuses on helping PTs open, manage and grow practices. For more information on the WIPI program or to schedule an educational summit at your practice, visit http://www.rehabmgtsolutions.com/industry, or contact Larry Briand, MS, PT, ATC at 877-552-2996 or at lbriand(at)rehabmgtsolutions(dot)com.