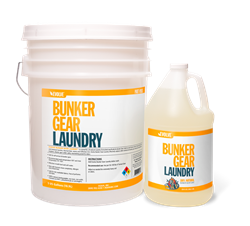 Evolve is engineered at the molecular level to be 10x smaller than traditional chemical soaps, allowing it to fully surround the debris and penetrate fabrics to breakdown contaminants, leaving no residue or irritants behind.
Fort Lauderdale, FL (PRWEB) August 13, 2013
It's no secret that firefighters are exposed to numerous and dangerous toxins and intense smoke in the line of duty, creating toxic daily cleaning tasks for trucks, equipment and the safety bunker gear they wear. Today, Agaia Inc. is igniting the industry in a positive way with the introduction of Evolve® Bunker Gear Laundry, the first all-natural cleaning and laundry technology powerful enough to safely remove smoke, soot, odors and cancer-causing toxins from expensive bunker gear and equipment. Evolve is fully compliant with National Fire Protection Association (NFPA) standard 1851 guidelines for care of Personal Protective Equipment (PPE).
Bunker gear costs thousands of dollars per set and keeping it clean and functional has been a constant worry. Until now firefighters have washed their safety gear with toxic and caustic chemical-based laundry detergents that can both weaken fabrics and damage the protectants applied to gear to protect firefighters. Not only is Evolve an all-natural, plant-based cleaning technology, but is also used with cold water--eliminating the extensive damage done to fabrics when fire crews have to repeatedly wash their gear in hot water.
The importance of clean gear to firefighters' safety and health is well documented. According to the National Fire Protection Association, hydrocarbon-soiled gear absorbs more radiant heat and is more likely to conduct electricity than clean gear. Heavily soiled gear also is more likely to ignite. Even after washing, smoke and soot deposits in dirty gear can become trapped in fibers, increasing the secondary exposure risk that firefighters will become ill by inhaling, ingesting or absorbing cancer-causing toxins from materials such as petroleum or asbestos, or from communicable diseases from bodily fluids such as blood.
"Evolve is engineered at the molecular level to be 10x smaller than traditional chemical soaps, allowing it to fully surround the debris and penetrate fabrics to breakdown contaminants, leaving no residue or irritants behind. The fire department municipalities currently using Evolve in the southeastern U.S. have reported that colors and fluorescent stripes are noticeably brighter and most importantly, odors are eliminated, something other cleaners have not achieved," said Agaia Director Steve Arbogast.
As the emerging leader in a new patented generation of highly active, yet safe organic cleaning technologies, Evolve is the first all-natural cleaner shown to be capable of achieving tested results at a level of efficacy previously seen only through the use of toxic, petroleum-based cleaners, detergents, degreasers and solvents. Evolve's Active-Capture® technology proactively captures and breaks down soils, grease, grime, odor-causing bacteria, and virtually all other unwanted contaminants at the molecular level in seconds, leaving no dangerous residues behind on the surfaces cleaned or in the environment.
Agaia now introduces two Evolve product kits for Fire Departments which include: Evolve Bunker Gear Laundry, Evolve Bunker Gear Laundry Pre-treat, Evolve All Surface Cleaner & Degreaser, Evolve Window & Glass, , and Evolve Hard Water & Scale Remover. More information on these kits can be found at http://www.bunkergear.agaiainc.com
These firehouse products are 100% free of toxins and ammonia and are specifically designed to remove soil, smoke, grease and grime on bunker gear, helmets, shields, machines, equipment and heavy-duty vehicles. Evolve is also being used to remove heavy water scale build-up from fire hydrants during emergencies.
Evolve is proven, lab-tested technology that has been shown to both outperform petrochemicals and eliminate chemical sensitivities. It is VOC-free and meets and exceeds NFPA 1851 compliance requirements.
About Agaia, Inc.
Florida-based Agaia, Inc. has launched a new revolution in "Green" that is changing how the planet cleans. Through the company's patented, all natural technology, Evolve®, Agaia has unleashed the intrinsic power of nature to clean at a level previously achieved only by the use of toxic, petroleum-based chemicals, detergents, and solvents. Evolve represents the next generation in cleaning technologies capable of delivering vastly superior results over chemical cleaners while offering an unprecedented new level of safety. Evolve is truly people planet and animal safe.
Agaia (pronounced A•guy•a) presently distributes its products to North, Central, and South America, Pan Asia, and beginning in Europe in mid-2013. The company has partnered with and licensed Evolve® for private branding to a growing list of Fortune 100 and 500 companies and is experiencing explosive growth in all market segments.
For more information, please visit: http://www.agaiainc.com